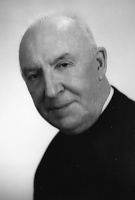 Father Joseph W. Connors, MM
Born: August 14, 1895
Ordained: June 17, 1923
Died: September 1, 1981
Father Joseph William Connors, of the U.S. Region Special Society Unit, died on September 1, 1981 at Phelps Memorial Hospital. He had received the Last Rites on several occasions during the past year.
One of the 'Giants' among the great Korean missioners, Father Joe, by his zeal, hard work and great kindness as well as his total dedication to the Korean Church, did outstanding work for a period of over 36 years in the Dioceses of Peng Yang before World War II, and Pusan and Inchon following the outbreak of the Korean War.
Father Connors was born in Pittsfield, Mass. on August 14, 1895, the son of Thomas Connors and Bridget Foley, both from Ireland. After attending Holy Cross University where he attained his B.A. in 1918, Father Joseph Connors entered Maryknoll in 1921. His Rector at the time was Father Patrick Byrne, later to be his first superior in Korea and a victim of the Korean Death March.
A brilliant student, Father Joe was first assigned to Catholic University where he was awarded an S.T.B. and S.T.L. He taught at the Maryknoll Seminary for 4 years before he was assigned to the Diocese of Peng Yang in what is now North Korea. From that date until he was repatriated aboard the M.S. Gripsholm in 1942 along with other U.S. prisoners of war, he was consistently rated by his superiors as an outstanding missioner who, by his kindness to the people and his zealous spiritual life, was instrumental in introducing Christianity to great numbers of the Korean people. He returned briefly to the U.S. in 1938 when he accompanied the body of Father Gerald Donovan who was kidnapped and murdered by bandits.
From 1942, when Father Joe was appointed Spiritual Director at Maryknoll until 1950, his apostolate was stateside. From 1943 to 1947 he was Rector at the Venard; and between 1947 and 1950 Rector at Lakewood.
After the outbreak of the Korean War, Father Joe asked for permission to return to Korea to care for the refugees who had been uprooted by the war. He briefly attended a brush-up course in Korean at Yale University and departed for Korea in 1951 in the company of Father James Pardy. Amid the chaos of homeless people, prisoners of war, military command, and the disturbed political situation of the times, Fr. Joe was a very energetic, happy man. His first Christmas back in Korea he wrote: "I had a very consoling Christmas, my best in 13 years. The people were grand; 350 Holy Communions and 10 adult baptisms. Everybody was happy – no one more than myself."
Referring in another letter to the great work the Maryknoll Sisters were doing among the refugees, Father Joe, Always the gracious gentleman, had this to say: "The people of Pusan are seeing Catholic Sisters for the first time, and their impressions are good ones. The Sisters are loved and respected wherever they go. This good feeling is due in no small measure to the Sisters' dispensary which cares for an average of 1500 patients a day." On a number of diaries, written on the old Knights of Columbus paper from World War I, he wrote of the thrilling bare-handed mission work of those days: finding homes for people, relocating refugees, getting blankets and food for the poor, instructing people in Christian Doctrine. In later years he would look back on those days as the time when he would baptize an average of 1,000 adults a year.
From 1956 until 1961, Father Connors served as Regional Superior of the Korean mission. Then, in 1961, at the end of his term, he returned to Pusan where he began a new parish and labored there until 1965 when failing health forced him to ask for a smaller parish in Inchon.
After 36 years of serving the missions, in 1965, at 73 years of age, Father Joe asked for permission to return to the States for reasons of health. In 1975 he was assigned to the Special Society Unit. Even then, according to his writings, his interest in missions and the Korean people did not cease. He was always the interested listener, the man hungry for news of Korea, and the man of Korea. He was a great missioner and a gentle man.
The Wake Service was conducted at Maryknoll Chapel on Sept. 3, by Fr. John Corcoran, former Regional Superior in Korea and Fr. Connors' co-worker in the Diocese of Inchon. Mass of the Resurrection was offered the following day by Fr. Eugene Toland who was Principal Celebrant. Fr. Winslow was the Homilist and Fr. Michael Duggan, presently home from Korea, conducted graveside services.