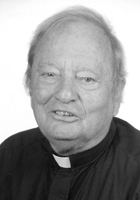 Father Joseph W. Halpin, MM
Born: September 2, 1925
Ordained: June 14, 1952
Died: August 13, 2014
Father Joseph Halpin died at St. Teresa's Residence, Maryknoll, New York on August 13, 2014.  He was 88 years old and a Maryknoll priest for 62 years.
Joseph William Halpin was born on September 2, 1925, in St. Louis, Missouri.  He is the son of William F. and Hilda Meinert Halpin.  He has one brother and two sisters.  Joseph attended St. Mark's Parochial School in St. Louis and in 1939 entered Maryknoll Preparatory Seminary in St. Louis.  Upon completion of high school studies, he went on to Maryknoll Apostolic College (Venard), Clarks Summit, Pennsylvania and received a Bachelor of Arts degree in Philosophy in 1947.  Father Halpin was ordained a priest at Maryknoll Seminary, New York, on June 14, 1952.
After his ordination, Father Halpin was assigned to the Maryknoll Mission in Guatemala.  He studied Spanish and served as assistant in the Soloma Mission in Huehuetenango up in the Cuchamantan Mountains where the only travel was by horseback.  In 1954 he was appointed Pastor of Santa Eulalia Parish, still in the Cuchamantan Mountains at an elevation of 8,500 feet, with a chilly and rainy climate, for four years.  In 1958 he was moved to Santa Cruz Parish, another six hours inland by horseback.  There, besides his pastoral duties, he supervised the construction of a rectory and a hospice for his catechists.  In 1960 he was named Pastor of the new La Libertad Mission where he helped with the building of the new parish church.  He also holds the distinction of being the first person to drive a Jeep into La Libertad.  In January of 1963 he was assigned to the Santa Teresita Parish of La Democracia on the Mexican border and the new Pan-American Highway.
After 17 years in La Democracia, and 28 years in Guatemala, he had a Sabbatical year of updating and spiritual renewal in the United States.  During his Sabbatical year, Father Halpin visited his good friend, the now deceased Maryknoll Bishop Hugo Gerbermann, who had retired as his bishop in Huehuetenango, Guatemala and was now Pastor of St. Joseph's Parish in Yoakum, of the Archdiocese of San Antonio, Texas.  Father Halpin requested release from Society service, and, as a member of the U.S. Region, he took up pastoral work as a curate to Bishop Gerbermann at St. Joseph's Parish.
After three years in Texas in November of 1983, Father Halpin elected to return to the Central America Region and began work as Pastor of the Most Precious Blood Parish in Guatemala City, where he had worked for 28 years.  This was a very active parish with 24 parish groups and a parochial school.
In October 2013 Father Halpin returned to the United States and took up residence at Mission St. Teresa's.  In November 2013 he was assigned to the Retirement Community.
Wake services were held at 4:30 p.m. on August 17, 2014 at St. Teresa's.  No formal wake service was held at the Seminary.  Father Halpin's family received condolences and prayers at 9:30 a.m. on August 18, 2014 in the Lady Chapel.  A Mass of Christian Burial followed, concelebrated in Queen of Apostles Chapel at 11:00 a.m.  Father Maurice Zerr was Principal Celebrant and Father Emile Dumas was homilist.  Burial followed in Maryknoll Society Cemetery with Father Paul Masson conducting the graveside service.