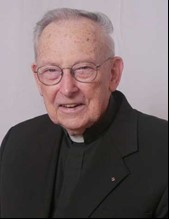 Father Joseph W. Kowalczyk, MM
Born: March 22, 1927
Ordained: June 10, 1961
Died: December 15, 2019
Father Joseph W. Kowalczyk died on December 15, 2019 at Phelps Memorial Hospital, Tarrytown, NY.  He was 92 years old and a Maryknoll priest for 58 years.
Joseph William Kowalczyk was born in Schenectady, NY on March 22, 1927 to Joseph and Stefania Kaczmarczyk Kowalczyk.  He had one brother and three sisters.  Joseph attended Draper Grammar School and graduated from Draper High School in 1943.  During WWII, he enlisted in the United States Navy for training in radar.  After the war, he was honorably discharged with the rank of Seaman First Class on August 3, 1946.  Resuming his studies, he graduated from Union College in June 1948 with a B.S. in Electrical Engineering.  He worked for the General Electric Company for six years, mainly stationed in Schenectady. In June 1954 he joined Maryknoll, entering at the Venard in Clark's Summit, PA for a year of special Latin, then a year of Philosophy in Glen Ellyn, IL.  He was ordained to the priesthood at Maryknoll, NY on June 10, 1961 and assigned to the Peru Region.
After studying Spanish in the Language School in Cochabamba, Bolivia, Fr. Kowalczyk was assigned as teacher in the Puno High School Seminary where he worked for five years before being transferred in 1967 to Arequipa, Peru, as Rector of a new experimental House of Priestly Formation named in honor of Saint Martin de Porres.  There the graduates of the minor seminary in Puno continued their formation and studies in philosophy in the Catholic University, where Fr. Kowalczyk also taught courses in the Social Doctrine of the Church and in Physics.  In 1972 the four bishops of the Altiplano, who authorized the House, decided to terminate the experiment.  Fr. Kowalczyk was reassigned to Puno and pastoral work in the Parish of Juli.  After studying the Aymaran language, he concentrated on the formation of lay leaders among the Aymaras in Juli and the neighboring Parish of Pomata.  He also served as Vicar General for one year under Bishop Edward Fedders, M.M., until the Bishop's sudden death in 1973.
After 20 years in Peru, Fr. Kowalczyk was assigned to the Development Department in the United States in July 1981, first working two years out of Denver, CO and another two years out of Buffalo, NY.  He was reassigned to the Peru Region in January 1985, to the Parish in Yunguyo with the Aymara people.  This time, unable to adapt to the high altitude after one year, he moved to Tacna, Peru, where many Aymarans were migrating from the Altiplano to the coast looking for a better life.  He worked on a team to establish parishes on the desert sands in the northern outskirts of Tacna, first the Parish of the Risen Christ and then Holy Family Parish, where three churches were constructed.  From June 1996 to the end of 1997, he served as Vicar General under Bishop Hugo Garaycoa in the Diocese of Tacna and Moquegua.
In order to be closer to his mother, who was living alone in Schenectady at 94 years of age, Fr. Kowalczyk was again assigned to the United States and the Mission Promotion Department in March 1998.  He worked for two years out of Buffalo, NY, and, upon the death of his mother in November 1999, he was moved to Houston, TX, where he utilized his Spanish language among the many Spanish-speaking people during his mission appeal Church dates.
In March 2002, Fr. Kowalczyk was given retirement status with residency in the Maryknoll Residence in Los Altos, CA where he lived and served part time on Mission Promotion appeals and as Spiritual Director for various neighborhood prayer groups.  In June 2014, he moved to the Society Center at Maryknoll, NY. In 2019, Fr. Kowalczyk was appointed to the Pastoral Visitors Team.
A Rosary and wake service was held on December 22, 2019 in the Holy Spirit Chapel at the Maryknoll Society Center.  The biography was read by Fr. Richard Czajkowski.  Fr. Kowalczyk's remains were transferred to the Lady Chapel on December 23, 2019 where his family received condolences and prayers. Mass of Christian Burial followed and was concelebrated in Queen of Apostles Chapel.  Fr. Edward Davis was Principal Celebrant and homilist. The biography was read by Fr. Timothy Kilkelly. Burial followed in Maryknoll Society Cemetery with Fr. Raymond Finch conducting the graveside service.