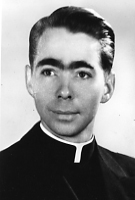 Father Justin B. Kennedy, MM
Born: April 12, 1916
Ordained: June 12, 1948
Died: October 17, 1975
Father Justin Benedict Kennedy died Friday afternoon, October 17, 1975 at North Shore Hospital, Manhasset, Long Island.
Father Kennedy was born in Corona, L. I., New York on April 12, 1916 but his family considered their hometown to be West Shokan, N. Y. He attended Our Lady of Sorrows Parochial School. He was graduated from public school and enrolled in the Pratt Institute where he studied Mechanical Engineering for two years at night. During the day he worked as a messenger for an insurance company.
Inspired by conferences at a parish mission, he determined to study for the missionary priesthood and contacted Father James Keller. He entered the Venard in 1939 and was ordained at Maryknoll on June 12, 1948.
His first overseas assignment was to Wuchow, China where he studied Cantonese for a year in the parish of Tan Chuk. Communist penetration of the area resulted in his arrest and incarceration in December of 1950. Released in May of 1951, he returned to the United States in August of that year. When it became evident that a return to China would be impossible, he asked for another overseas assignment. He was sent to the Philippine Islands where he arrived in Jun, 1952. He began work in the parishes of the Lipa Diocese as one of a pioneer group.
He soon became known as one of the most active missioners in the area. Justin has left an enviable legacy for all of us. He continually demonstrated his concern and love for the people he served and for the missioners he served with. He was totally dedicated to carrying out Christ's mandate: "Preach the Gospel."
The body was waked in Flushing, N. Y. prior to being brought to Maryknoll for a wake service on Monday evening, October 20, at 7:30. The Mass of the Resurrection was celebrated Tuesday, the 21st, at 11:45 in the Society Chapel.