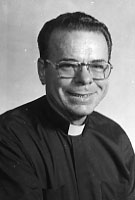 Father Justin E. Maurath, MM
Born: April 11, 1921
Ordained: June 11, 1949
Died: January 11, 1988
Father Justin Elmer Maurath died of cancer on January 11, 1988 in St. Louis, Mo. at the age of 67.
Justin was born on April 11, 1921 in St. Louis, Missouri, son of Elmer Louis and Bernadine Gude Maurath. He had 4 brothers and 2 sisters. He attended St. Mary Magdalen grammar school and was graduated from Southwest Public High in St. Louis. He wrote: "While I was in the 8th grade I entertained the idea of becoming a priest and, with a friend, I went to see my pastor. I explained to him that I preferred missionary work and would like to join a missionary order. That was when I first heard about Maryknoll. Two years later Father John Martin came to our parish on promotion. After Mass I spoke with him and was advised to complete my courses in high school."
Upon graduation from high school in June, 1939, he applied to Maryknoll and was accepted. He lived at the local Development house for a year to learn Latin, and entered the Junior Seminary in August, 1940. He was ordained at the Center in 1949 and was assigned to the Hawaii Region. He spent the next 6 years as Associate Pastor in various parishes in the Islands: Sacred Heart, Honolulu; St. Joseph in Hilo for two years and then at Sacred Heart, Hawi; finally at St. Anthony's in Kailua. He was great in CYC work among the young people and loved being a parish priest in the various places.
At the end of his first furlough he joined the U.S. Force Chaplain Corps in April, 1957 and served for 20 years, attaining the rank of Lt. Colonel and retiring from the Service in 1978. The apostolate of a Catholic Military Chaplain, even in peace time, is a demanding one, truly missionary in nature. He lives with the military personnel and their families, coming from many ethnic and social backgrounds. On the occasion of Fr. Maurath's retirement Archbishop Joseph Ryan, Coadjutor Archbishop of the Military Ordinariate, wrote as follows to Father Raymond Hill, Superior General, expressing thanks for the Maryknoll Chaplains serving in the Corps and praising Fr. Maurath's outstanding service. "As an Air Force Chaplain", he said, "Father Maurath was always industrious, sincere and resourceful. The wide variety of his pastoral assignments witness his zeal and the confidence the Air Force placed in him. We are grateful that he gave a substantial part of his priesthood to the military family." This accolade well sums up Father's life as a Chaplain. He enjoyed it and served at the air bases in South Carolina, Rabat, Morocco, Missouri, Texas, several Pacific bases, California, Oklahoma and Blytheville, Arkansas. He retired from the latter in 1978.
After retirement he did limited pastoral work in St. Louis from 1979 to 1982. He was enrolled in the Special Society Unit in May, 1982, with permission to live where he chose. His next five years he alternated between his family home in St. Louis, with his sister, Lois, and the home of friends in Honolulu. His last few years were filled with many health problems.
Wake Service was held January 13 with Mass the following day at St. Mary Magdalen Church, St. Louis. Burial was in Jefferson Barracks National Cemetery, St. Louis County. Concelebrants were Frs. Joseph Hermes, Kenneth Sullivan, and Fidelis Goodman. A memorial Mass was offered at Maryknoll, New York on the 14th.