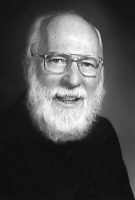 Father Kevin A. Lynch, MM
Born: March 5, 1933
Ordained: June 10, 1961
Died: November 14, 2010
Father Kevin A. Lynch died on Sunday, November 14, 2010 at St. Teresa's Residence. He was 77 years old and a priest for 49 years.
Kevin Arthur Lynch was the third of four sons born to Thomas Lynch and Josephine Hoar Lynch. He was born in Rower Hospital, 5th Avenue, New York City on March 5, 1933. He attended St. Luke's Elementary, the Bronx, New York and Rice High School, New York City, where he graduated in June 1951. He had been in contact with Father Walter Maxcy, M.M. for two years prior to graduation. During that time a letter from the U.S. State Department was circulated stating that all students graduating that year (1951) would be inducted into the U.S. Army and sent to fight in the Korean War. Kevin wanted no part of any war, and he had already decided in his third year of high school that he wanted to become a Maryknoll Missioner (partly through the influence of Father Walter Maxcy). Within a week after high school graduation he was studying special Latin at the Maryknoll Junior Seminary (Venard), Clarks Summit, Pennsylvania.
He was ordained a Maryknoll priest on June 10, 1961. Following ordination, Father Lynch was assigned to the Maryknoll Mission Region of the Philippine Islands. Within three months of starting the seven- month language course held at Sasa, Davao, Father Lynch was giving 'Tex-Mex' sermons. Because of his skill with languages his first assignment was to Baganga where the people speak another dialect, Dabueno. Rolling up his shirtsleeves, Father Lynch went to town and mastered this dialect. He also made contact with the Mandaya and Mansaka-speaking aborigines. In 1964 he became pastor of a parish in Compostela, setting up a catechetical center with the Mandaya people in Pon-Pon. There he baptized the whole village. Following treatment for hepatitis in 1966, Bishop Joseph Regan, M.M. assigned Father Lynch full time to the Native Apostolate. He took up residence in the hills above Santo Tomas in the province of Davao del Norte, Philippines working in the Apostolate for Cultural Communities. He taught the native children in Kinsi-Kinsi while he was learning their dialect.
Because he had signed a petition to allow workers to organize a non-company union and had operated a rural mimeo-press, Father Lynch was persona-non-grata in the Philippines and was barred re-entry in July 1977. He was therefore assigned to the Central American Mission Region and took an eight-month course in Spanish in Cochabamba, Bolivia. He worked for five years in Chiantla, and then went to San Pedro Necta, Huehuetenango, Guatemala mastering the Mayan Main language of the Indians. He taught the people bee keeping and fish farming to supplement their local diet.
Father Lynch was given retired status with continued residence in Guatemala effective July, 2006. He remained in Huehuetenango, teaching at Landivar University and serving as their chaplain. Here he hoped to further vocations to the religious life. On November 1, 2010 Father Lynch joined the Retirement Community and moved to Mission St. Teresa's.
Wake services were held at 4:30 p.m. on Thursday, November 18, 2010 at St. Teresa's Residence, with Father Paul Belliveau officiating, and at 7:30 p.m. in Queen of Apostles Chapel at Maryknoll. Father James D. McAuley read the biography. Mass of Christian Burial was concelebrated in Queen of Apostles Chapel on Friday, November 19, 2010 at 11:00 a.m. Father Robert L. Depinet was Principal Celebrant and homilist. Burial followed in Maryknoll Society Cemetery with Father Dougherty conducting the graveside service.