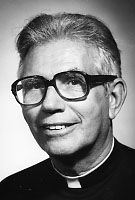 Father Laurence A. Dugas, MM
Born: November 17, 1927
Ordained: June 12, 1954
Died: July 5, 2005
Father Laurence A. Dugas died at St. Teresa's Residence, Maryknoll, New York on July 5, 2005. He was 77 years old and a Maryknoll priest for 51 years.
Laurence Armand Dugas was born on November 17, 1927, in Lynn, Massachusetts, son of Joseph and Anne Esther Hartnett Dugas. He grew up with two brothers and one sister. He attended Eastern Junior High School and graduated from English High School in Lynn in June 1945. He entered Maryknoll Apostolic College (Venard) in Clarks Summit, Pennsylvania, on July 2, 1945. Due to overcrowding at the Venard he was sent with a number of his classmates to study at Loras College in Dubuque, Iowa, for the first two years of college. He obtained his Bachelor of Arts degree in Philosophy in June 1949, and his Bachelor of Arts in Theology in 1952, both from Maryknoll Seminary in Ossining, New York. During the summer of 1949 he took a Gregorian Chant course offered at the Pius X Institute at Manhattanville College, New York City. He obtained his Master of Religious Education at Maryknoll Seminary in 1954. He was ordained a priest in the Annunciation Chapel of the Maryknoll Sisters Motherhouse on June 12, 1954.
After ordination Father Dugas was assigned to the University of Notre Dame, in South Bend, Indiana, where he received a Master of Arts degree in English and Anglo-American Literature in August 1955. He was then assigned to teach English, Speech and Religion at the Venard College for two years, and in September 1957 was transferred to Maryknoll College, Glen Ellyn, Illinois where he taught English for six years.
Father Dugas received his first overseas mission assignment to the Bolivia Region on May 9, 1963. After five months of language and cultural studies at Maryknoll Language School in Cochabamba, Bolivia, he was assigned to the Pando Vicariate. As an Assistant Pastor in the Cobija Mission, he taught in the local high school and engaged in pastoral ministry both in Cobija and in the surrounding rural areas. In 1966 Father Dugas was appointed Pastor of the Guayaramerin Mission with its rural outstations, and five years later was assigned to the Riberalta area where he served two years in parish work and two years on the rivers of the Pando. On June 21, 1972 he was appointed First Alternate Consultor for the Bolivia Region.
After twelve years serving in the missions of the Pando Vicariate, on August 1, 1975 Father Dugas was recalled to the United States and assigned to the Development Department. For three and a half years he served in the St. Louis Development House and area. After completing the Mission Renewal course in the Spring of 1979 and the Spiritual Renewal Program at Hingham, Massachusetts, he celebrated his 25th Anniversary of Ordination at Maryknoll Center in New York with his classmates and then returned to Bolivia in July.
Father Dugas was appointed Pastor of the Riberalta Parish in August 1979, and in 1981 he returned to his first mission, Cobija, as Pastor.  Father Dugas served the Vicariate as Pro-Vicar for a year and four months until Bishop Morgan Casey was named to replace Bishop Schierhoff. Father Dugas returned to Cobija for three years and then served as Pastor of Riberalta for four years.
In July 1996, after almost 30 years in Bolivia, Father Dugas began a new phase of missionary work in China when he was assigned to the Hong Kong Region. He began teaching English to university students at Wu Yi University in Jiangmen (Kongmoon) and at Zhaoqing University in Guangdong province. Each August he spoke of his own experiences in China during the orientation of short-term Maryknoll volunteers, often serving as a combination mentor/leader/friend to the participants. Of his years in China Father Dugas said, "I have learned in China what I never could see clearly before. We just do whatever we can, as well as we can, and all the rest is up to God who does it all in His own way anyway." He continued teaching in China until February 2005, when he was assigned to the Retirement Community. He returned to the United States and took up residence at St. Teresa's.
Wake services were held at 4:30 p.m. on July 7, 2005 at St. Teresa's, with Father Paul Belliveau officiating, and at 7:30 p.m. in Queen of Apostles Chapel at Maryknoll Center where Father Delos Humphrey officiated and Father William Galvin read the biography. Mass of Christian Burial was concelebrated in Queen of Apostles Chapel on July 8, 2005 at 11:00 a.m. Father William Coy was Principal Celebrant and homilist. Burial followed in Maryknoll Society Cemetery with Father Francis McGourn conducting the graveside service.