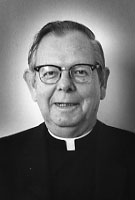 Father Laurence S. Vaughan, MM
Born: February 3, 1915
Ordained: June 21, 1942
Died: July 18, 1994
Father Laurence S. Vaughan died at 11:45 a.m. on Monday, July 18, 1994 in Phelps Memorial Hospital Center, North Tarrytown, New York. He was 79 years of age and a Maryknoll priest for 52 years.
Fr. Vaughan was born on February 3, 1915, in Salt Lake City, Utah, son of Thomas Vaughan and Anastasia Walsh Vaughan. He had eight brothers and one sister. He attended Onequa public grade school for six years and then transferred to Judge Memorial Catholic School from which he graduated in June 1933. As a seminarian for the Salt Lake City Diocese he entered St. Joseph College, Mt. View, California in September 1933 and two years later received his Bachelor of Arts degree in Philosophy at St. Patrick Seminary, Menlo Park, California. He joined Maryknoll Society at the Novitiate in Bedford, Massachusetts, on September 1, 1937 and was ordained a priest at Maryknoll Seminary, in Ossining, New York, on June 21, 1942.
After ordination, Father Vaughan was assigned to the Maryknoll Mission in Hawaii and served there as a curate and a pastor of different parishes for eleven years. As pastor of St. Anthony Parish, Papaaloa, Hawaii, a sugar plantation area with two mission stations, he built a parish hall in Papaaloa, and also a new St. James Mission Church in Qokala. On April 20, 1954. his Superiors in New York assigned him to Collegio Maryknoll, Rome, Italy, to secure a doctorate degree in Sacred Theology at the Dominican University of St. Thomas Aquinas (Angelicum). Following completion of his degree studies in 1957 he taught dogmatic theology at Maryknoll Seminary, New York, for ten years. In July of 1967 he was appointed Business Manager and assistant local superior of Maryknoll College, Glen Ellyn, Illinois. When the college was closed in 1971 he remained at Glen Ellyn in the caretaker's position. With the sale of the college property to the Christian Brothers of Lewis University, Joliet, Illinois, he was assigned once again to Hawaii in June of 1974. He served as Assistant Pastor of Sacred Heart Parish in Honolulu for one year; as Pastor of Sacred Heart Parish, Pahoa on the Island of Hawaii 1975-76; and as Pastor of St. John the Baptist Parish in Honolulu. As Pastor of St. John's Parish he built a new parish hall, a science classroom, kindergarten classroom, and a library for St. John's Parochial School. Due to the generosity and cooperation of the parishioners, Father Vaughan left every parish in which he served as pastor completely free of debt.
On October 1, 1980 he was appointed Regional Superior of Maryknoll's Hawaii Region and served in that capacity for two terms of three years duration. He attended numerous meetings in the Orient and the Inter-Chapter Society Assembly in New York. He was a member of the Society's Eighth General Chapter at Maryknoll, New York in 1984. At the end of his term October 1, 1986, he returned to Maryknoll Center in New York and in January 1987 was assigned to serve as a staff member in the General Council Secretariat. In April the General Council appointed him as Publisher of the Society's in-house newspaper Maryknoll News. He remained active in both of these positions until his death.
As a member of the General Council Staff Fr. Vaughan did research and document writing for the Council. One of his assignments was the writing of the biography letters of deceased Maryknollers, which he did with concern and sensitivity. Always attentive to accuracy in the details, his own biography – written by himself – which comprises the first page of this letter was discovered on the "Deceased Maryknollers Biographies" computer disk found in his desk drawer.
One of the tasks to which he dedicated a great deal of time and energy was the rewriting and editing of the Society's revised Constitutions which were approved by the Holy See in February 1994 and published and promulgated by the Superior General on March 25, 1994. A second task was the revision of the Society Directory which is currently in the final stages of review and approval by the General Council.
Over the years in his spare time, Father Larry wrote a detailed and comprehensive History of the Maryknoll Hawaii Region, published in 1993. The history preserves a "record of some historical facts and events of the lives of 133 Maryknoll missioners who served the Church in Hawaii during the 63 year period between 1927 and 1990."
In 1987, on Fr. Larry's assignment to the U.S. Region, the Superior General, Fr. William Boteler, wrote him: "I would like to take this opportunity, Larry, in the name of all Maryknollers, to express most sincere thanks to you for your long history of dedication to mission and the many vital contributions you have made to the life of Maryknoll in Mission. Just reading your headlines: missioner in Hawaii, Seminary Professor, Regional Superior would be enough to convince anyone of your valuable contributions." Other letters from various superiors through the years express their appreciation for his humble and obedient acceptance of any assignment given him and his complete dedication to the fulfillment of his responsibilities.
During his recent years in the General Council Staff office, many Society members who were his students in Seminary days dropped in to renew his acquaintance and to comment on the appreciation they have always had for the education and formation that he had given them during his teaching years.
Wake services were conducted by Fr. David I. Walsh in Our Lady Queen of Apostles Chapel at Maryknoll, New York on the evening of Thursday, July 21, 1994. Fr. Albert Nevins was Principal Celebrant and Fr. William Bergan Homilist at the concelebrated Mass in the Society Chapel at Maryknoll, NY on Friday, July 22, 1994. Graveside services were conduced by Fr. Kenneth Thesing in the Maryknoll Society Cemetery at the Center.