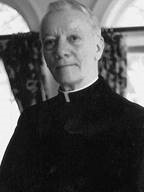 Father Laurence T. Murphy, MM
Born: November 2, 1918
Ordained: June 12, 1954
Died: June 1, 2021
Father Laurence T. Murphy, M.M. died on June 1, 2021 at the Assisted Living Unit at Maryknoll, New York. He was 102 years old and a Maryknoll priest for 66 years.
Laurence Thomas Murphy was born on November 2, 1918 in Yonkers, New York, son of Lawrence John and Helen Marie Keegan Murphy. He had two brothers. Laurence attended St. Joseph Parochial School in Roselle, New Jersey, and in June 1935 he graduated from Seton Hall Preparatory High School, South Orange, New Jersey. He graduated from the U.S. Naval Academy with a Bachelor of Science degree in Engineering in June 1941 and was commissioned an Ensign in the U.S. Navy and served in the South Pacific and North Atlantic. He received a Presidential Citation and a Purple Heart for serving in the Battle of Savo Island and took part in eighteen separate combat operations as an Ordnance Engineer. He resigned from the Navy in January 1947 with the rank of Lieutenant Commander.
In 1948 Laurence entered Maryknoll as a seminarian at Maryknoll Seminary in Ossining, New York. He received his Bachelor of Arts degree in Theology on January 12, 1953 and his Master of Religious Education degree on June 1, 1954. Father Murphy was ordained a priest in the Annunciation Chapel at the Maryknoll Sisters Motherhouse in Ossining on June 12, 1954.
After ordination Father Murphy was assigned to the Maryknoll Mission Region in Taichung, Taiwan. His departure was delayed a year for health reasons, and he studied the Mandarin language at Yale University during that year. On May 18, 1955 he was assigned to the faculty of Maryknoll College, Glen Ellyn, Illinois, where he taught courses in Philosophy and served as the Chairman of the Philosophy Department.
In 1960 Father Murphy was assigned to the Maryknoll Mission Region in Mindinao, Philippine Islands, but after three months, he was forced to return to the U.S. for health reasons. On January 17, 1961 he was assigned to the Promotion Department and served in the Detroit Promotion House. He accepted a scholarship to Notre Dame University, South Bend, Indiana, to pursue doctoral studies in Philosophy. On April 10, 1962 he was appointed to the Faculty of Maryknoll College in Glen Ellyn, and, during the summer months, he continued his studies at Notre Dame University. He received his Doctorate degree in Philosophy in June 1964. While at Notre Dame, he also taught undergraduate students in the Philosophy and Theology Departments. He was a facilitator and counselor of Notre Dame's CILA Program, a Peace Corps-type summer program for students serving in Latin America.
In 1965 Father Murphy was assigned to the staff of the National Conference of Catholic Bishops in Washington, DC. This led to a number of appointments. He became the first Director of the Office of International Education. In 1966 he was named Director of the Division of Higher Education, U.S. Catholic Conference. He was also President of the National Newman Foundation from 1970 to 1975 as well as a member of the Goheen Committee for Christian Higher Education in India, Director of International Education, a member of the Catholic Education Association and a member of the Bishops'-President's Committee for Catholic Higher Education. Secretary of State, Dean Rusk, appointed him to two positions in the Department of State, namely the United States National Commission for UNESCO, of which he was elected Vice Chairman, and the United States National Committee for Man and the Biosphere, of which he was Chairman.
Father Murphy returned to Seton Hall University in September 1975 and served as Associate Professor in the Center for Humanistic Studies. He is the author of a number of books and articles and assisted in the writing of pastoral letters issued by the U.S. Bishops. He traveled extensively in Latin America, Europe and the People's Republic of China. In November 1979 he was appointed the 16th President of Seton Hall University and served in that position for fifteen months, when he resigned the position because of ill health. In late 1981 he was assigned to the China Research & Liaison Group and worked out of that office at Maryknoll, New York. On July 1, 1982 he was appointed Coordinator of the Maryknoll Society History Project.
In 1986 Father Murphy set up the China House in South Orange, New Jersey, as a residence for Chinese scholars at Seton Hall University and as an intercultural center, where he served as Director until 1999. Through the years he continued to work with the Catholic Churches of China, North and South Korea and has made about 35 trips through East Asia. He maintained his involvement with the Chinese Catholic Church until 1999, when he retired. In 1993 he was awarded the Benemerenti Medal by Pope John Paul II.
Father Murphy joined the Special Society Unit in April 1994 and in 2001 became a member of the Retirement Community (now Senior Missioner Community) with residence in Belle Mead, New Jersey. In August 2010 he returned to reside at Maryknoll, New York. Father Murphy celebrated his 100th birthday in November 2018.
Father Murphy is survived by his nieces, Patricia LoBosco, Kathleen Murphy Carr and Margaret Laudati and a very dear friend, Joseph Wu.
A Wake service was held on June 4, 2021 in the Holy Spirit Chapel at the Maryknoll Society Center. Mass of Christian Burial followed at 11:00 a.m. and was concelebrated in Queen of Apostles Chapel. Father Alfonso Kim was Principal Celebrant and homilist. Father Michael Duggan read the biography and Father Emile Dumas read the Oath. Burial followed in the Maryknoll Society Cemetery.