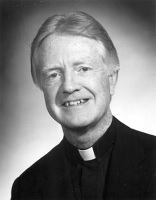 Father Lawrence W. Flynn, MM
Born: October 10, 1928
Ordained: June 6, 1987
Died: July 9, 2022
Rev. Lawrence W. Flynn died on July 9, 2022 in the Assisted Living Unit at Maryknoll, New York.  He was 93 years old and a Maryknoll priest for 35 years.
Lawrence William Flynn was born on October 10, 1928 in Cambridge, Massachusetts, son of John and Ruth McGowan Flynn.  He attended St. John the Evangelist Grammar School and St. John High School, both in Cambridge. After high school, he joined the Marine Corps in March 1946 and was honorably discharged in December 1947.  Lawrence joined Maryknoll in September 1948, but withdrew in August 1953.
While in Maryknoll, Lawrence received a BA in Philosophy in 1952.  After leaving Maryknoll, he attended Boston College and received a MEd in Social Science and Education. He taught high school for two years, and in 1957 he joined the Department of Defense, working in high schools conducted by the U.S. Government in Germany and France.  He joined the Peace Corps in 1961 and served in Togo, West Africa.  In 1964 he joined Catholic Relief Services and worked in Leopoldville, the Congo until 1966, when he again began work with the U.S. State Department, serving with U.S.A.I.D.  During his time with U.S.A.I.D., he served in Vietnam, Morocco, Washington, DC and New Delhi, India.
It was while he was in the United States to attend a nephew's graduation that Lawrence decided to contact Maryknoll again to pursue re-entry into the Society.  He rejoined Maryknoll in September 1981.  His Overseas Training Program experience was spent in Kowloon, Hong Kong, and Dar es Salaam and Musoma in Tanzania.  He received an MDiv degree from the Maryknoll School of Theology in 1987 and was ordained on June 6, 1987.
Following ordination, Father Flynn was assigned to the Hong Kong Region and began teaching English at Suzhou Railway Teachers College.  He remained there until November 1989 when he taught at the Sheshan Regional Seminary in Shanghai.  During his teaching years in China, he initiated the Chinese Seminary Teachers and Formators Project, which involved bringing Chinese students to the United States for study.  He left his teaching assignments in 1994, but remained in Hong Kong and was involved in pastoral ministries there.
Father Flynn returned to the United States in September 1998 to care for his mother.  He was formally assigned to the United States Region in October 2000 and to the Mission Promotion Department in December of that year.  He continued working in this Department until November 2002, when he was assigned to the Senior Missioner Community and took up residence at Maryknoll, New York.  For several years, his ministry was principally at the U.S. Military Academy at West Point.  He continued to reside at the Society Center in Maryknoll, New York.
Wake services were held on July 15, 2022 in the Holy Spirit Chapel and the Queen of Apostles Chapel at the Maryknoll Society Center.  Mass of Christian Burial followed at 11:00 a.m. and was concelebrated in the Queen of Apostles Chapel.  Father John Chen of the Archdiocese of Boston was the Celebrant and homilist.  Father Peter Barry read the biography and Father Peter Le Jacq read the Oath.  Burial followed in the Maryknoll Society Cemetery, with Father Lance Nadeau presiding at the graveside prayers.