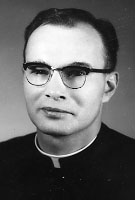 Father Leo A. Decman, MM
Born: November 7, 1925
Ordained: June 13, 1959
Died: April 5, 1979
Father Leo Decman died on Thursday, April 5, 1979, at 5:20 a.m., at Severance Hospital in Korea.
Born in Joliet, Illinois, on November 7, 1925, Leo was the son of Maria Grahek and Martin Decman, Austrian immigrants to the U. S. After studies at St. Joseph's Parochial School, Joliet Catholic High School, and Joliet Township High School, he entered the U.S. Army, where he served for two and a half years during World War II. Later in his life, Leo wrote that his desire to be a missionary priest stemmed "from the distress seen during his service in the army in foreign countries."
Following the service, Leo entered the University of Illinois, where he gained his degree in Personnel Administration, a field in which he worked briefly before entering Maryknoll in June of 1951. Leo felt that a missionary life was the "best way to serve God — through love and sacrifice. Striving to imitate Christ, the missioner gives material and spiritual aid to those in need and doesn't expect the world to thank him for it."
Ordained June 13, 1959, to live out this vision, Leo left for Korea in September, where he worked his entire mission career – primarily in a parish and also, for a time, as Second Regional Assistant. He found the parish apostolate ideal in its challenge to personal and community growth.
Leo possessed considerable artistic talent – a gift which was reflected in his personal life, both in his estimate of himself, and in the view others had of him. Leo saw himself as having "a sense of harmony and endurance." Others,indeed, found harmony in his manner: quiet and reflective, yet sociable and hospitable. Others also witnessed his endurance in his responsible, steady work, and in his spirit of poverty.
The funeral was held on April 7, 1979, in Seoul, Korea, with classmates Father Mike Duggan as Principal Celebrant, and Father Pat Bergin as Homilist.Father Decman was buried in Cheong Ju, the Diocese of his mission work. Mass was celebrated at St. Joseph's Church, his home parish in Joliet, Illinois, on Monday, April 9th, at 10:00 a. m. At Maryknoll, New York, the Mass of the Resurrection was celebrated at 11:45 a. m. on April 6th, with Father John Halbert, a classmate, as Principal Celebrant and with Father John Meehan, a classmate from Korea, as homilist.
As we have grown in the experience of Leo's life and fellowship, may both he and his family feel the healing love of Maryknoll once again. Leo's final words before death continue his example to us all: "Lord, forgive me for my sins."