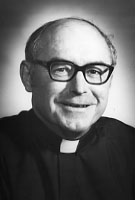 Father Leo F. McCarthy, MM
Born: January 14, 1920
Ordained: June 15, 1947
Died: October 17, 2002
Father Leo F. McCarthy died on Thursday morning, October 17, 2002 at St. Teresa's Residence, Maryknoll, New York. He was 82 years old and a Maryknoll Priest for 55 years.
Leo Francis McCarthy was born on January 14, 1920 in Dorchester, Massachusetts; son of Hugh and Anna Cassidy McCarthy. He has one sister, and three brothers: Hugh Jr., Henry, and Paul. His uncle was deceased Maryknoller Father Joseph Cassidy. He graduated from Millis Public High School in Millis, Massachusetts in June 1937 and entered Maryknoll on September 7th of that same year.
Father McCarthy was ordained on June 15, 1947 and sent to Kaying, China, where he studied the Hakka language. On July 6, 1948 he sent a letter to Bishop Raymond Lane, Superior General, from Kwangtung, South China. Father McCarthy writes "The language school for the missioners closed about the end of June. Both Father Eggleston and I were amazed how rapidly the time went by. Afterwards Father O'Donnell and the language school Fathers went to Kaying to celebrate June 29th. All the Christians here know that the Maryknollers gather on this date. The day began with Solemn High Mass. In the afternoon Bishop Ford arrived from Hong Kong accompanied by Father Gallagher. After the celebration the Bishop passed out the assignments. Father Eggleston and I are going to step right into parishes… we learn something new about China everyday." He was then assigned to the mission of Chong Pou.
Because of the communist takeover of the country, the missions were closed and the foreign missioners were expelled in 1952. Father McCarthy, along with other expelled Maryknollers, was assigned to the newly opened Maryknoll mission in Lipa, the Philippines, where he studied Tagalog. After eight months of language study he was assigned to Santa Maria Parish in the Province of Laguna, near Manila. In 1954 during his first Home Leave he was assigned as Chaplain to the civilian construction workers at Thule Air Force Base in Greenland, where he experienced the 24 hours of daylight and 24 hours of dark that occurs at that latitude.
After "being on top of the world," Father McCarthy was assigned to Santa Maria Parish in the Province of Laguna, the Philippines, where he worked for three years. By the end of that time, sufficient Filipino priests for the Lipa Diocese were ordained. Thus, the local clergy took charge of the Laguna parishes and the Maryknoll missioners moved to the southeastern area of Davao on the island of Mindanao. In 1960, Father McCarthy was again at language school learning the local language known as Cebuano. Following language school he was parish priest of Panabo, Lupon, and supervised extensive building projects, the Church of Panabo, the Church of Lupon, Christ the King Hospital of Tagum, and Queen of Apostles Seminary in Tagum. In 1964, his Regional Superior described Father McCarthy as "very capable and hard working."
In 1972, Father McCarthy returned to the United States and worked for two years in the Cleveland Promotion House before being assigned to the United States Region and the Development Department in June 1974. At this time he moved to Chestnut Hill, Massachusetts where he remained until 1981 when he began work in the Washington, D.C. area. Father McCarthy spent 20 years in the Development Department. He was an outstanding ambassador for mission and Maryknoll in Cleveland, Chestnut Hill, MA and Washington, DC. He loved to preach on the missions and Maryknoll. One of his greatest joys was meeting the many sponsors, benefactors and friends of Maryknoll during his years on Development. Anyone who visited Cleveland, Chestnut Hill or Washington, DC was the recipient of the gracious hospitality of Father McCarthy. He loved people and was a first class storyteller. He will be missed deeply by family, friends and his Maryknoll family.
In September 1992, Father McCarthy moved back to Chestnut Hill. Due to ill health, he took up residence at St. Teresa's in February 1996 and was assigned to the Retirement Community in February of 1997.
Wake services were held at 4:30 p.m. on October 17, 2002 at St. Teresa's, with Father Edward R. Killackey officiating, and at 7:30 p.m. in Queen of Apostles Chapel at Maryknoll Center where Father William J. Galvin officiated and Father William J. LaRousse read the biography. Mass of Christian Burial was concelebrated in Queen of Apostles Chapel on October 18, 2002 at 11:00 a.m. Father J. David Sullivan was Principal Celebrant and Father George H. Ratermann homilist. Wake services were held on October 21, 2002 and a Funeral Mass was celebrated on October 22, 2002, both in Millis, Massachusetts. Burial was in Vine Lakes Cemetery in Medfield, Massachusetts.