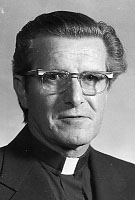 Father Leo J. Sommer, MM
Born: June 9, 1922
Ordained: June 12, 1948
Died: March 2, 1999
Father Leo J. Sommer died early in the morning of March 2, 1999 in Winter Haven, Florida. He was 76 years old and a Maryknoll priest for 50 years.
Leo was born June 9, 1922 in the Jamaica Plain section of Boston, Massachusetts, son of Jacob and Ella Novy Sommer. After public grammar school, he graduated from Boston College High School and entered Maryknoll Apostolic College (The Venard) at Clarks Summit, Pennsylvania, in September 1939. He had one brother, Father Paul Sommer, M.M., who served his entire missionary life as a Maryknoll priest in Guatemala and El Salvador. Fr. Leo Sommer was ordained at Maryknoll, New York, on June 12, 1948.
After ordination, Father Sommer was assigned as Econome at Maryknoll Junior College in Lakewood, New Jersey, and then as Econome at Maryknoll Seminary in Ossining, New York. In April 1954 he was assigned to the Bolivia Region and began language studies at the Cochabamba Language School in August of that year. While still in language school he was assigned as the Regional Procurator with residence in La Paz. In mid-1957 he was assigned as Assistant in the San Roque Parish in Santa Cruz and was named pastor the following year.
While on Home Leave in 1960, Father Sommer was assigned to furnish and outfit the new Maryknoll Junior Seminary under construction in Chesterfield, Missouri. He returned to Bolivia in the fall of 1961 and was assigned as Director of Radio San Rafael in Cochabamba, one of three cultural, educational broadcast radio stations established and operated by the Maryknoll Bolivia Region. He remained in that post for ten years until the station was turned over to the Diocese.
Father Sommer was appointed Second Assistant to the Bolivia Regional Superior in 1962 and then First Assistant in 1967. He was appointed Regional Superior of the Bolivia Region for three years effective March 6, 1972 and reelected for another three year term, effective January 1975. It was during this period that the concept of Maryknoll Mission Areas developed, promoted principally by the Regional Superiors of Latin America. Father Sommer was the First Elected Delegate of the Bolivia Region to the Sixth General Chapter in 1972, but having been elected Regional Superior in the meantime he attended the Chapter in that capacity.
On completion of his second term as Bolivia Regional Superior, Father Sommer was assigned to the United States Region and the Social Communications Department as Assistant Director for Administration.
In 1981 he was named Director of the Department and in 1984 reappointed for a second three-year term. During his time as Director he oversaw the reorganization of Orbis Books after the untimely death of its founding Editor-in-Chief, Mr. Philip Sharper. He also introduced a Team Management style that allowed the various sections of the Department – magazines, books, films, television and radio programs, media relations – to interact and create complementary products. As Social Communications Director he was influential in the initiation and establishment of the Mission Education Board composed of the Directors of Departments involved in the Societyts various forms of Mission Education in the United States. This Board later developed into what is known today as the Coordinating Board of the Apostolate. During this time he served four years on the Central Salaried Personnel Board and a three year term on the Salaried Personnel Retirement Board. In September 1983 Father Sommer was named compiler and editor of the Pre-Chapter Bulletin in preparation for the Eighth General Chapter in 1984.
On completion of his assignment as Social Communications Director in 1986, Father Sommer was named as a member of the General Council Staff in the newly restructured General Council Secretariat, with particular responsibility for Society Planning. In 1989 he produced the Center Society Administration Directory which provides information on the background, mandate, authority, structure and responsibility of all Society Departments, Offices and Programs headquartered at Maryknoll Center, New York. He was a member of the Planning Committee for the Ninth General Chapter in 1990 and was Chairman of the Chapter Preparation Committee which designed the process for the Tenth General Chapter in 1996 in Hong Kong, where he served as one of the Recording Secretaries. His latest major task for the General Council was his involvement in the revision of the recently published 1997 edition of the Society Directory and Policy Manual.
Wake services were held on Monday, March 8 at 7:00 p.m. at St. Teresa's Residence Chapel and at 7:30 p.m. at Queen of Apostles Chapel at Maryknoll Center where Father George Ratermann presided and Brother Wayne Fitzpatrick read the biography. Mass of Christian Burial was concelebrated at Queen of Apostles Chapel on Tuesday, March 9 at 11:00 a.m. Father James A. Jackson was Principal Celebrant and Father Stephen DeMott homilist. Burial followed at Maryknoll Center Cemetery with Father Michael Snyder conducting the graveside service.