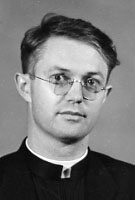 Father Leo J. Steinbach, MM
Born: June 24, 1905
Ordained: February 1, 1931
Died: October 31, 1994
Father Leo John Steinbach died at St. Teresa's Residence, Maryknoll, New York, on Monday, October 31, 1994 at 11:20 p.m. Father Steinbach was 89 years old and a Maryknoll priest for 63 years.
Leo John Steinbach was born on June 14, 1905 in Chariton, Iowa, son of Herman J. Steinbach and Anna Metz Steinbach. He had two sisters and six brothers, one of whom is Brother Frederick H. Steinbach, M.M.
Leo was brought up on the family farm and had his early education in local public schools and at Des Moines Catholic Academy. He studied at Columbia College (later known as Loras College) in Dubuque, Iowa, and went on to St. Mary's Seminary, Baltimore, Maryland, to study for the diocesan priesthood. It was after hearing lectures given by Maryknoll missioners at St Mary's that he entered Maryknoll in 1928 and was ordained a priest at Maryknoll, New York, on February 1, 1931
Father Steinbach's first mission assignment was to the Maryknoll mission of Yong Yang, Korea, In 1933 he began the study of the Japanese language with a view of working among the Japanese residents in Korea.
In 1936 he faced health concerns and in 1937 he was recalled to the United States. Father Leo spent many months at the Maryknoll Sisters' sanatorium in Monrovia, California, and was eventually discharged as cured. In 1938 he was assigned to Maryknoll's Japanese parish in Los Angeles, California. He returned to Korea in 1939. At the beginning of December 1941 and World War II, he was interned by the Japanese and later repatriated to the United States.
On Thanksgiving Day in 1942 Fr. Leo took up pastoral work among the Japanese in the Relocation Camp at Manzanar, California. His contact with Japanese in Korea made him well qualified for work among the evacuees in the U.S. He spent long hours teaching and ministering to the internees and his zeal attracted many to the Church to study the doctrine and eventually to request baptism.
After the war he returned to Japan and, except for occasional brief furlough visits to the United States, remained in Japan where he was especially involved, first with expatriate Koreans and later among the handicapped and aged in the Kyoto area.
The corporal and spiritual works of mercy were the center of Father Leo's missionary priesthood. His many years of missionary work in Japan had a tremendous positive impact on the Diocese of Kyoto where served as pastor in various parishes. In addition, he built and directed two nursing homes for the aged. Fr. Leo was highly respected by many members of the diocese – priests, religious and lay.
Still active in his late seventies and early eighties, he was engaged in collecting and sending clothing to the needy throughout Japan and Southeast Asia, a project he had begun in his early days in Japan. At the same time, he continued to promote devotion to the Green Scapular.
In his later years he became enthralled by the 'Little Pebble' group organized by a visionary in Australia who considered himself an official interpreter of the Blessed Virgin Mary's apparitions and messages and the next and final Pope. The beliefs and predictions of this group, unfortunately, caused disturbing disruptions in the Catholic community in Japan.
Father Leo was known as a kind and affable person with a touch of temper that could make him stubborn at times. He was utterly dedicated to his work and did all in his power to provide for those under his care. He had little use for vacations and Home Leaves.
In 1989 he was enrolled in the Special Society Unit with residence at Maryknoll Residence, Los Altos, California, After the devastating earthquake in the San Francisco Bay Area October 17, 1989, he transferred to St. Teresa's Residence, Maryknoll, New York, where he remained until his death.
Wake Services were conducted for Father Steinbach at St. Teresa's Residence Chapel and Our Lady Queen of Apostles Chapel at Maryknoll Center, New York, on November 2, 1994. A concelebrated Mass of Christian Burial was celebrated at Our Lady Queen of Apostles Chapel, Maryknoll, New York, on November 3, 1994. Fr. Joseph McGehren was Principal Celebrant and Fr. Robert Reiley was the homilist. Interment followed in the Maryknoll Society Cemetery. Fr. James Kroeger officiated at the graveside service.