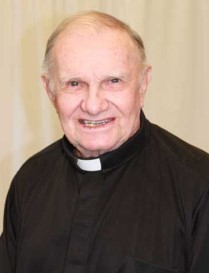 Father Leo R. Kennedy, MM
Born: June 16, 1930
Ordained: June 13, 1959
Died: February 28, 2021
Father Leo R. Kennedy died on February 28, 2021 at the Assisted Living Center at Maryknoll, New York. He was 90 years old and a Maryknoll priest for 61 years.
Leo Richard Kennedy was born on June 16, 1930 in Worcester, Massachusetts to John and Doris Clark Kennedy. He had three brothers and two sisters and attended St. Stephen's Grammar and High School. Leo was inspired by films on mission and by reading books and pamphlets given to him by Father Reilly. He entered Maryknoll at Brookline, Massachusetts in September 1949 and was ordained on June 13, 1959.
After ordination, Father Kennedy was assigned to the Maryknoll Mission Region of Africa. Upon completion of language studies, he worked in the Parishes of Busanda, Mwanangi and Mipa in the Shinyanga Diocese of Tanzania. In July 1976, Father Kennedy returned to the United States for a three-year assignment with the Development Department and worked in the Detroit area. He was re-assigned to Tanzania in July 1979, serving in the Nassa area before moving to Old Maswa parish. In 1985 he was assigned as full-time pastor at Nyalikungu and worked with newly ordained priests. He enjoyed teaching catechumens, which was a main focus of his work.
Father Kennedy was given retired status in July 1997. He continued to reside in Tanzania and began working at the Ndoleleji Parish in the Shinyanga Diocese. His ministry included saying Mass at Buhangija Parish, witnessing marriages, baptisms, and helping the poor and the sick especially at the government hospital and Kolandoto hospital.
Although he returned to Maryknoll, New York and joined the Retirement Community in October 2000, Father Kennedy went back to Tanzania in 2001 and again in 2003, and lived in Buhangija Parish in Shinyanga, Tanzania. In 2006 he returned to Maryknoll, New York and continued to reside at the Society Center as a member of the Senior Missioner Community. In June 2019 he celebrated his Sixtieth Jubilee as a Maryknoll priest surrounded by family and friends.
A Mass of Christian Burial was celebrated in Queen of Apostles Chapel at 11:00 a.m. on March 10, 2021. Father Edward Davis was Principal Celebrant and Father Michael Snyder was homilist. Father Edward Phillips read the biography and Father Michael Duggan read the Oath. Burial followed in the Maryknoll Society Cemetery.