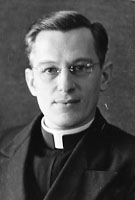 Father Leo V. Zemalkowski, MM
Born: April 9, 1911
Ordained: February 7, 1943
Died: April 1, 1981
Father Leo V. Zemalkowski  died on April 1st at St. Teresa's Residence, after a short illness. His last days were well-ordered and peaceful. His friend of many years, Fr. James Sheridan, administered the last anointing. Leo would have celebrated his seventieth birthday on April 9th.
Born in Scranton, Pennsylvania, on April 9, 1911, Leo was one of five sons and two daughters born to John Zemalkowski and Lucy Kowarsch. In 1924 the family moved to Poland and remained there until 1926 when, because of visa difficulties, three members of the family were in the States and the rest in Poland. In order to remain united, the family then settled permanently in Scranton.
Leo pursued his interrupted studies through to a Bachelor Degree from St. Thomas College, in 1935. Through several years his vocational discernment fluctuated between his desires to be a priest and to be a lawyer. Leo entered Maryknoll because of the interest and affirmation of Fr. Thomas Walsh at the Venard. When Leo's first inquiries to a religious order were met with indifference, he was captivated by the enthusiasm of Father Tom and he entered Maryknoll in September, 1937.
Apparently, because of the interrupted schooling and English as a second language, Leo had difficulties with the seminary courses. His maturity, generosity, and responsibility, however, balanced his academic struggle and Leo was ordained February 7, 1943.
The whole of his mission career was in Chile – virtually thirty years. Leo was one who worked within personal limitations to achieve a positive and permanent contribution to the work of the mission and Maryknoll in Chile. Naturally shy, he was renowned for his language ability, for the excellence of his sermons, and for his hospitality. Although he served well as Director of the Molina school, he was more content as a curate, doing much of the administrative work that other Maryknollers needed but found especially burdensome. He studied constantly and with a predilection for psychology and Canon Law – disciplines he felt would assist him in parochial situations. His special apostolate was in preparing couples for marriage.
The wake service on Thursday, April 2nd was led by Fr. Thomas McDermott. Funeral Mass was the following day. At the request of Leo, Fr. Joseph Rickert was principal celebrant and Fr. James Sheridan the Homilist. Burial followed in the Maryknoll Cemetery.
A short while ago, Leo wrote of his gratitude to the administrator and staff of St. Teresa's: "for their goodness and concern, but most especially for their prayers during these last trying days." He expressed his gratitude to all the Maryknollers with whom he had lived – and to Maryknoll. "God bless and be with you all, he wrote, please pray for me." We, too, are grateful, Leo. May God bless and be with him also. And may we be united with him in prayer and in faith.