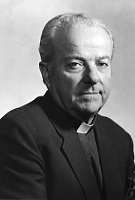 Father Leon A. Harter, MM
Born: January 26, 1909
Ordained: June 11, 1939
Died: August 21, 2002
Father Leon Harter died on Wednesday, August 21, 2002, in St. Teresa's Residence, Maryknoll, NY. He was 93 years old and a Maryknoll priest for 63 years.
His early education took place in the West Pittston, Pennsylvania public schools and he graduated from the Wyoming Seminary Preparatory College in Kingston, Pennsylvania. He studied for two years at  Villanova College, and then transferred to St. Thomas College, Scranton, Pennsylvania, where he received his Bachelor of Arts degree in June 1934. On September 1, 1934, he entered Maryknoll Novitiate at Bedford, Massachusetts, and was ordained a priest at Maryknoll, New York, on June 11, 1939.
On September 27, 1935 he wrote about his vocation to Maryknoll and missionary Priesthood: "All through my school days I thought of the Priesthood. I wanted to be sure I had a vocation. The Field Afar Magazine had been coming regularly to my home. In reading the magazine I learned more about Maryknoll. I later decided to visit the Venard College in Clarks Summit. I knew nothing of the life of Maryknoll or anyone belonging to the Society. Visiting the Venard I entered a new world. I met Father Borer who was very kind and humble. After visiting the Chapel, I was assured I had finally come to my new home. I had no further doubts but immediately wrote to Bishop Walsh."
After ordination Father Harter was assigned to Maryknoll's Mission in the Heijo Vicariate, North Korea, and made good progress in learning the Korean language. Due to World War II he was interned by the Japanese and then returned to the United States aboard the repatriation ship Gripsholm on August 31, 1942.
On January 24, 1943, Father Hatter was assigned to Maryknoll's new mission in the Diocese of Temuco, Chile, South America, where he remained for ten years. He spoke Spanish fluently and became an efficient administrator and organizer. He was a pioneer in instituting new things as pastor. He built a new church in Galvarino, and had very good relations with the town officials and the local people. He became pastor of Santo Tomas parish in Temuco, and later, in 1947, pastor of the Chillan parish.
Father Harter was reassigned to Korea on October 1, 1952. While in the Pusan area he did contract chaplain work with the Korean prisoners of war for the American army. On April 3, 1954, he was accepted in the U.S. Army Chaplain Corps. As a chaplain, after service in Korea, he was rotated on a regular basis to United States military posts in Germany, Panama Canal Zone, and The White Sands Missile Range in New Mexico. He eventually attained the rank of Lieutenant Colonel.
In September of 1969 Father Harter retired to the Maryknoll Residence, Los Altos, California, where he spent nearly all of the last decades of his life. He possessed a lively sense of humor, and enjoyed the give and take at the dining room table, where he sat in the same chair for more than 30 years! He enjoyed getting out of the house to run small errands, and always to have lunch in a local eatery. He often reminisced about his years as a military chaplain in Germany, a country for which he had immense respect and affection. In the fall of 1990 Father Harter received a letter from the Superior General thanking him for the new altar at Los Altos, which was given in memory of the Harter Family.
Father Harter was enrolled in the Special Society Unit on January 21, 1976 and assigned to the Retirement Community on February 1, 2001. He moved to St. Teresa's Residence, Maryknoll, New York in November 2001.
Wake services were held at 4:30 p.m. on August 23, 2002 at St. Teresa's, with Father John Hudert officiating, and at 7:30 p.m. in Queen of Apostles Chapel at Maryknoll Center where Father John Barth officiated and Brother Donald Miriani read the biography. Mass of Christian Burial was concelebrated in Queen of Apostles Chapel on August 24, 2002, at 11:00 a.m. Father Joseph McGahren was Principal Celebrant and homilist. Burial followed in Maryknoll Society Cemetery with Father Thomas Henehan conducting the graveside service.