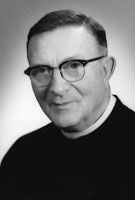 Father Leopold H. Tibesar, MM
Born: August 27, 1898
Ordained: June 26, 1921
Died: March 13, 1970
Leopold H. Tibesar was born in Quincy, Illinois on August 27, 1898. His early education was at St. Francis in Quincy. He spent three years at Kenrick Seminary and in 1919 a year at the Catholic University in Washington, D.C. He was ordained on June 26, 1921 and took the Perpetual Oath in 1930.
Father Tibesar occupied many positions in the Society. In 1925 he was Acting Rector of the Major Seminary and in 1926 was assigned to Fushun where he became first assistant to the Society Superior. Ill health brought him to Monrovia in 1931. In 1933-4 he worked in the Los Angeles Japanese Mission and in 1935 was named Local Superior of the Seattle house.
In 1944 Father Tibesar went to Chicago to care for the Japanese relocatees. He went to Japan in 1946 and in 1949 was appointed by the Apostolic Delegate to the post of Executive Secretary to the National Catholic Committee of Japan, which post he held until 1955. Father was named the delegate for the Kyoto group at the 1956 Chapter. In 1963 he returned from Japan on sick leave and was stationed at the Seattle Development house and at Mountain View.
In 1968, on behalf of Emperor Hirohito and the Japanese Government, Father Tibesar was decorated with a special honor for his role in behalf of Japanese internees during World War II and for his parochial work among the Japanese people.
Father Tibesar died on March 13, 1970 at the Santa Teresita Hospital in Duarte, California.
A funeral Mass was said on March 16 at Mountain View, California. Fr. William Bergan was principal celebrant while Fr. Henry Dirckx preached the homily. Bishop Raymond Lane gave the Absolution. Father is survived by four brothers, three of them priests, two Franciscan and one Benedictine; also by three sisters, one of whom is Sr. Miriam Agnes, M.N. of Monrovia.