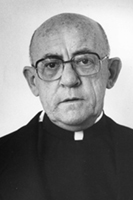 Father Lionel A. Bouffard, MM
Born: May 12, 1930
Ordained: June 8, 1963
Died: July 9, 2011
Father Lionel A. Bouffard died on July 9, 2011 at St. Teresa's. He was 81 years old and a Maryknoll priest for 48 years.
Lionel Albert Bouffard, one of eight children of Isaac and Diana Thereoux Bouffard was born on May 12, 1930 in Warren, Rhode Island. His early schooling took place at St. Jean Baptiste Grammar School in Warren and La Salle Academy in Providence, Rhode Island.  After graduating from high school, he worked one year before joining the United States Air Force in July 1948.  He was honorably discharged in July 1952 and a year later entered Maryknoll at the Venard, Clarks Summit, Pennsylvania in June 1953.
Father Bouffard was ordained on June 8, 1963 and assigned to Maryknoll's Africa Region.  After language studies from 1963 to 1972, he worked in various parishes in Tanzania under Bishop Edward A. McGurkin, M.M. and in the Arusha, Morogoro and Dar Es Salaam Dioceses.  In June 1972 he was assigned as Chaplain and Religious Education Teacher at Mzumbe High School in the Morogoro Diocese for four years before becoming Pastor at Chang'ombe Catholic Church in the Archdiocese of Dar es Salaam.
Father Bouffard was assigned to the new Kenya Region in January 1, 1979 and began work as Chaplain, Teacher and Head of the Religious Education Department at Cardinal Otunga High School in Kisii, Kenya.  From 1985 to 1990, he was a chaplain and lecturer in religious studies at Kenyatta University, Nairobi. He was also very active in the International Movement of Catholic Students (IMCS), part of Pax Romana. Because of his fluency in French, he served full-time as the continental chaplain for ICMS in Africa from 1985-1997, when he returned to the United States and was assigned to the Retirement Community in September of that year.
In September 1998 Father Bouffard joined Father George Egan, M.M. at the Maryknoll House of Prayer project established at Lourdes, France.  He felt his work at Lourdes "guided those who came along a prayerful path and they enjoy the peaceful atmosphere of Lourdes.  It was a special place of prayer for Father Price, our co-founder, and his spirit continues to pervade our work at Lourdes."
Wake services were held at 4:30 p.m. on July 12, 2011 at St. Teresa's, and at 7:30 p.m. in Queen of Apostles Chapel at Maryknoll Center where Father Kenneth Sullivan officiated and Brother Kevin Dargan read the biography.  Mass of Christian Burial was concelebrated in Queen of Apostles Chapel on July 13, 2011 at 11:00 a.m.  Father James Lehr was Principal Celebrant and Father Leo Kennedy homilist.  Burial followed in Maryknoll Society Cemetery with Father Paul Masson conducting the graveside service.