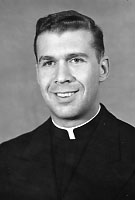 Father Lionel F. Trudel, MM
Born: February 24, 1929
Ordained: June 9, 1956
Died: June 22, 2007
Father Lionel G. Trudel died at Phelps Memorial Hospital, Sleepy Hollow, New York on June 22, 2007. He was 78 years old and a Maryknoll priest for 51 years.
Lionel Gaston Trudel was born February 24, 1929 in Slatersville, Rhode Island, the son of Lionel and Virginia Peltier Trudel. He attended Kendall Dean grammar school in Slatersville, and graduated in 1947 from Mt. St. Charles Academy High School in Woonsocket where he studied with the Sacred Heart Brothers.
Joining Maryknoll at Lakewood, New Jersey in September 1947, he received a Bachelor of Arts degree in Philosophy from Maryknoll College, Maryknoll, New York, in 1951, a Bachelor of Sacred Theology degree from Maryknoll School of Theology, Maryknoll, New York, in 1955, and a Master of Religious Education degree, also from Maryknoll, New York, in 1956. He was ordained on June 9, 1956 at Maryknoll, New York.
Following ordination, Father Trudel was assigned to the Bolivia Region, where he studied at the Cochabamba Language School for six months, before being assigned to the Parish of Santa Ana doing pastoral work. In 1961 he was transferred to Achacachi to work among the Aymara people (descendants of the Inca civilization). Subsequently he served in Santa Cruz, Cotoca, La Paz and Riberalta, where he was involved with the formation of lay Christian leaders and the River Apostolate, visiting communities along the Beni and Madre de Dios Rivers.
With the exception of one year of special catechetical studies at the Strasbourg Catechetical Institute in France, Father Trudel spent thirty-three years serving in Bolivia. In 1978 he was chosen by his fellow missioners to represent them at the Society's Chapter. He was elected Assistant Regional Superior for Bolivia in February 1978, and held that position until January 1981.
In December 1990, Father Trudel was assigned to the United States Region, and did hospital chaplaincy work in Kingston, New York. From 1989 through 1991 he served as Parochial Vicar at St. John the Evangelist in Beacon, New York, before working in Hispanic ministry for the Diocese of Springfield, Massachusetts for several years.
Father Trudel joined the Retirement Community in July 2000, and took up residence at the Society Center, Maryknoll, New York. In May 2002, he moved to St. Teresa's Residence. He said that "The high point of my career as a priest was being able to serve the poor who, despite their poverty were people of joyful faith and hope."
Wake services were held at 4:30 p.m. on Tuesday, June 26, 2007 at St. Teresa's and at 7:30 p.m. in Queen of Apostles Chapel at Maryknoll Center where Father Francis Higdon officiated and Father William D. McCarthy read the biography. Mass of Christian Burial was concelebrated in Queen of Apostles Chapel on Wednesday, June 27, 2007 at 11:00 a.m. Father William Coy was Principal Celebrant and Father Edward Walck homilist. Burial followed in Maryknoll Society Cemetery with Father John McAuley conducting the graveside service.