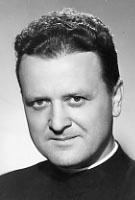 Father Lloyd I. Glass, MM
Born: March 31, 1910
Ordained: June 16, 1935
Died: March 28, 1991
Father Lloyd Glass died at El Camino Hospital in Los Altos, CA on March 28, 1991, after being in poor health for many weeks. He was almost 81 years old and a priest for 56 years.
Lloyd Ignatius Glass was born in Cresco, Iowa on March 31, 1910, son of Albert J. Glass and Elizabeth Carroll. He had 5 brothers and 2 sisters. Early education was in Cresco and he was graduated from Loras College with a B.A. degree. In college he was a member of various societies which sponsored mission activities and this attracted him to Maryknoll which he entered in 1931. He was ordained on September 4, 1931.
After Ordination he was assigned to Wuchow, South China and served all of his time in the Kweilin area. Because of his sociability and talent he gained a very good command of the language. He served as Pastor of Laipo in 1937 and, in 1939, as Pastor at Yunghi and Director of the Catechist School. His superior wrote of him: "he was an exceptionally able missioner —  made many converts — 900 in one year and 1022 the next – and conducted a well organized parish. He had tremendous energy." During World War II he served as chaplain with General Chennault's Flying Tigers. Returning to the States on furlough in 1944, he was assigned as Spiritual Director at Akron, and for a year he taught history and algebra to the seminarians.
In 1946 Father Glass returned to Kweilin and became Pastor of Chuenchow. With his excellent command of the language and zealous energy he developed the parish and had a "mass conversion" movement under way as his superior said. After the war he conducted a boys' town in Guangdung Province where he housed, fed, clothed and educated more than 100 war orphans at a time. He also operated a foundling association for abandoned infants and a rice bank to help poor farmers through periods of drought and flood. When the Chinese Communists took over in 1951 he was placed under house arrest for 5 months before being released and he returned to the States. During his furlough he served as chaplain in St. Joseph Mercy Hospital, Cresco. The next year he was assigned to development and served in New York City and Cuyahoga Falls.
In April of 1955 he went to Taiwan as Pastor of the Chu Nan Mission in TaHu. His superior wrote of him as "a very energetic man with a natural flair for leadership. He is settling down to the new life in Taiwan with minimum difficulty. He studies the language diligently and is quite good at it." In 1961 he worked almost entirely among the aborigines in the mountain area of the Tai An Hsiang Mission, where he built up two new stations.
In December, 1962, while on home furlough, he was assigned temporarily to Los Altos and his missionary life changed. As an outlet for his boundless energy he served as Assistant Pastor at St. Simon Stock Parish in Los Altos and spent much time as chaplain at the El Camino Hospital. All spoke highly of his work and he carries out his assignments with much imagination and initiative. His temporary position stretched into a permanent one there.
At the age of 70, in 1981 he entered the SSU with residence at Los Altos and he continued working at the hospital. His health slowly deteriorated and on March 28th he died in the El Camino Hospital.
Wake services were conducted at St. Simon Stock Church on the evening of the 31st and burial followed the next day. Fr. Philip Sheerin was principal celebrant at the funeral Mass and the homily was given by Fr. Arthur Kelly, Pastor of St. Simon Stock.