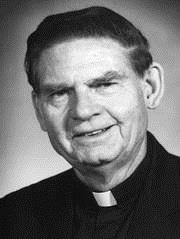 Father Louis B. Rost, MM
Born: November 13, 1927
Ordained: June 11, 1955
Died: November 12, 2017
Father Louis B. Rost died on November 12, 2017 at Mission St. Teresa's, Maryknoll, New York. He was 89 years old and a Maryknoll priest for 62 years.
Louis Bernard Rost was born on November 13, 1927, in Jefferson City, Missouri, the son of Louis and Euphemia Dudenhoeffer Rost. He was the fifth of six children and had two brothers and three sisters. He attended Immaculate Conception Elementary and High Schools in Jefferson City and graduated from St. Peter's High School in 1945. He studied for one year at St. Louis Preparatory Seminary, St. Louis, Missouri before entering Maryknoll in September 1946.
After his ordination on June 11, 1955, Father Rost was assigned to Taiwan, where he spent his entire missionary career. After language study, his first assignment was to a very large parish in Tien Chung where, in 1957, 832 people were baptized. In 1959 while taking part in rescue operations in flood-stricken parts of the island, he narrowly escaped death when the helicopter he was riding in crashed.
After several months of refresher language study, Father Rost was assigned to Shuili where he served as Pastor from July 1958 through November 1965. Although he was instrumental in constructing several chapels, the Catholic communities in Thau-Sia and Sun Moon Lake dissipated after his tenure at Shuili.
In 1966 Father Rost represented Taiwan's missioners at Maryknoll's Fifth General Chapter, in which important applications of the conclusions of Vatican II were considered. In 1968 he was appointed Second Consultor for the Taiwan Region, and in 1979 Father Rost was appointed Third Assistant Regional of Taiwan.
From 1975 through 1986 Father Rost served as Pastor of Holy Cross Parish in Changhua City, and he considered these eleven years the high point of his mission career. During his tenure as pastor he started a Parish Council, which is still active today, and he also saw the parish become self-supporting for the first time since its founding.
In 1991 Father Rost began as Pastor of Sacred Heart of Mary Church in Changhua Hsien. He was given retirement status in January 1998, but continued to serve in his position as Pastor. He remained in Taiwan until 2016, when he took up residence at Mission St. Teresa's in Maryknoll, New York. He was assigned to the Senior Missioner Community in November 2016. At the time of his 60th Jubilee in 2015, Father Rost reflected, "it has been a privilege to serve the Church in Taiwan as a Maryknoll missioner. Praise and thanks to God."
A Rosary and wake service was held at 4:00 p.m. on November 15, 2017 at Mission St. Teresa's. The Rite of Reception took place at the Maryknoll Society Center at 9:30 a.m. on November 16, 2017. Father Rost's family received condolences and prayers until 10:45 a.m. in the Lady Chapel. The biography was read by Father Robert Crawford. Mass of Christian Burial followed at 11:00 a.m. and was concelebrated in Queen of Apostles Chapel. Father John Moran was Principal Celebrant and homilist. Burial followed in Maryknoll Society Cemetery with Father Edward J. McGovern conducting the graveside service.