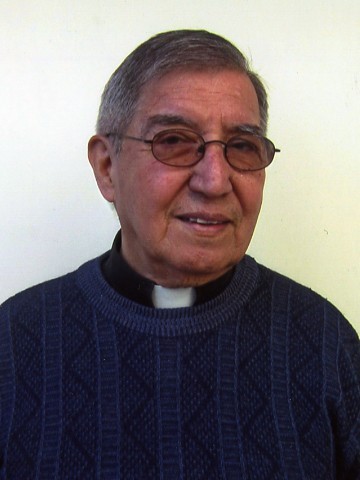 Father Manuel J. Mejia, MM
Born: February 28, 1935
Ordained: June 8, 1963
Died: February 25, 2020
Father Manuel J. Mejía died on February 25, 2020 at the Maryknoll Society Center in Maryknoll, NY.  He was 84 years old and a Maryknoll priest for 56 years.
Manuel José Mejía was born on February 28, 1935 in Fort Dodge, IA, the son of Manuel and Leobarda Ramos Mejía.  He had three sisters and one brother.  He attended Sacred Heart Grammar School and graduated from Sacred Heart High School in Fort Dodge in 1953.  He entered Maryknoll Junior Seminary (the Venard), Clarks Summit, PA on September 8, 1953.  He received a Bachelor of Arts degree from Maryknoll College, Glen Ellyn, IL in 1958 and was ordained a priest at Maryknoll, NY on June 8, 1963.
Fr. Mejía's first mission assignment was to the Chile Region.  After language study in Cochabamba, Bolivia, he served in Chile until 1975.  His first parish was Santo Tomas in Temuco, Chile, and then he became Pastor of La Asuncion Parish in Talcahuano.  While on furlough in 1970, Fr. Mejía took a Pastoral Counseling Course.  In 1972, he was appointed Second Consultor to the Regional Superior of the Chile Region, and was re-appointed for a second term in 1975.  In September 1975, he was assigned to the new Maryknoll Mission Unit in São Paulo, Brazil, where he served until December 1987.  After language studies, he served first at St. Francis of Assisi Parish for five years and then at Santo Alberto Parish for the remainder of his time in Brazil.
Fr. Mejía was assigned to the U.S. Region to work in Vocation Ministry in January 1988.  He worked in establishing a vocation program specifically for the Hispanic community.  Then on September 1, 1998 he was assigned to work in the Mission Office of the Archdiocese of San Francisco. In May 2002 he became a member of the Senior Missioner Community.  Fr. Mejía served as the San Francisco Archdiocesan Mission Moderator for the Holy Childhood Association and continued to reside in San Francisco until he returned to Maryknoll in 2017.
A Rosary and wake service was held on February 26, 2020 in the Holy Spirit Chapel at the Maryknoll Society Center.  The biography was read by Fr. Dale Barron.  Fr. Mejía's remains were transferred to the Lady Chapel on February 27, 2020, where his family received condolences and prayers.  Mass of Christian Burial followed and was concelebrated in Queen of Apostles Chapel.  Fr. James Kofski was Principal Celebrant and Fr. John Gorski was homilist.  The biography was read by Father Dale Barron.  Fr. Joseph Everson presided at the graveside prayers.  According to Fr. Mejía's wishes, he was cremated following the funeral service.