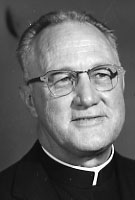 Father Mark A. Tennien, MM
Born: May 19, 1900
Ordained: May 19, 1927
Died: January 2, 1983
In these first days of the New Year I bring you the sad news of the death of Father Mark Tennien on January 2nd.
Father Mark, the eleventh of twelve children, was born in Pittsford, Vermont on May 19, 1900, to James Tennien and Sedonnie Kegleur. Father Mark himself says of his parents: "In my father I saw the sincere, upright and rather silent philosophical mind. My mother was the ultra-efficient, tireless laborer and manager, especially of the children."  As Mark grew up on the family farm he characterized himself as a head-strong, mischievous boy though frank and honest. He was influenced by the piety of his father. He writes about his father: "As a little tot helping to spread the bed, the never-failing presence of Daddy's beads, and his frequentation of the altar rail with us was silent oratory in those impressionable days."
From the age of 16, young Mark wanted to study for the priesthood. His years of formation took him to Pittsford High School, Holy Cross College, Worcester College, St. Michael's College, the Grand Seminary in Montreal, St. Mary's Seminary in Baltimore, and finally to Maryknoll in the summer of 1926. In his biography, Mark tells us: "At Montreal I felt a vague longing for mission work and when missionaries spoke to us I used to dream and picture myself in those far away places. Yet, I believe many others do that. When I went to St. Mary's I followed with great interest the pictures and clippings on the Crusade bulletin board. Through this Maryknoll became more than a name for me. I used to meditate that if the priesthood meant sacrifice, or, as Lacordaire defines it – the immolation of a man added to the immolation of a God, then I was going halfway as a secular priest here at home. I wanted to be a victim and the most Calvary-like altar was the mission field."
One of 21 young men, he was ordained on May 19, 1927 and was first assigned to Wuchow in 1928. He returned briefly to the U.S. for promotional work and back to Wuchow in 1935. In January of 1951 he was interned by the communists but released seven months later. In 1952 he went to Hong Kong as the Editor of the China Mission Bulletin, succeeding Fr. Thomas Bauer. He was a Chapter Delegate in 1956, after which he was assigned as Director of the New York house. In April of 1957 he was assigned to Japan where he spent the rest of his missionary career. In September, 1976 he was assigned to the Special Society Unit.
During the latter part of 1977, Father Mark developed health concerns, necessitating his return to the United States in 1978. He was placed in the Ferncliff Nursing Home in Rhinebeck, N.Y. but in September of 1982 transferred to St. Teresa's Residence.
Father Mark had a long missionary career. While in China he wrote Chungking Listening Post and No Secret Is Safe. In Japan he built a very beautiful and modern church in Kuwana and established a Kindergarten for the education of the young. In his time in Japan he had been characterized as a man of even temper, cooperative and generous, a good host and companion, a man with tremendous talent, dynamic with a keen mind and plenty of ideas, with the courage to put them into practice. He will long be remembered by his people in the parish of Kuwana.
The Wake Service took place on January 3 with Fr. Thomas McDermott officiating. The biography was read by Fr. John Harrington. Mass of Christian burial was on the following day with Principal Concelebrant Fr. John Cioppa, and Homily by Fr. James Mylet.
According to Father Tennien's wishes and Japanese custom, he remains of Father Mark will be cremated and the ashes returned to Japan.
We hope that Father Mark may be in the Kingdom of Heaven and that he be granted his own wish, as stated in his Last Will and Testament: "I assign and offer my soul and body to God in death as a last Mass, hoping He will find the offering of my life and death acceptable and will allow me into His presence and union with Him for life eternal."