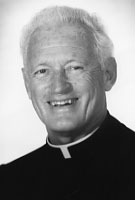 Father Martin F. Murphy, MM
Born: December 24, 1923
Ordained: June 9, 1951
Died: February 22, 1998
Father Martin F. Murphy died in the afternoon of February 22, 1998 at San Borja Hospital in Lima, Peru. He was 74 years old and a Maryknoll priest for 46 years.
Martin Francis was born on December 24, 1923 in Gloversville, New York, son of Martin Murphy and Estelle Martha Cohen and the youngest of five children. He attended public grade school and graduated from the public high school in Gloversville. Martin entered Maryknoll on July 19, 1944 and he obtained his Bachelor of Arts degree in Philosophy, and his Master of Religious Education degree. He was ordained a priest at Maryknoll Seminary, New York on June 9, 1951.
Following ordination, Murphy was assigned to the Maryknoll Mission Region in Peru and after language studies, he was assigned to the Puno diocese. In February 1952, he was assigned to the San Juan Parish in the city of Puno. In 1956, Fr. Murphy began work in San Miguel parish in Ilave. In 1957, he was named Director of the Maryknoll Center House in Lima. Later that year, the Bishop of Juli sent him to the Dominican University of St. Thomas Aquinas, (Angelicum) in Rome, Italy to study Canon Law. After obtaining a Licentiate Degree, he returned to Juli, Peru on September 20, 1959, where he subsequently served as Chancellor of the Prelature.
Throughout his missionary life, Father Murphy was the first one to test the new frontiers of mission whether in the altiplano of Puno or in the new initiative of the Peruvian Mission Association (APM) that brought him to Ayacucho in the mid-1970s. Father Murphy was elected a Chapter Delegate from the Peru Region to the 1966 General Chapter at Maryknoll, New York. On December 23, 1966 he was appointed Regional Superior for the Peru Mission Region.
Imbued with the spirit of Vatican II, Father Murphy exercised visionary leadership in the Peru Region as a Regional Superior in implementing that spirit cemented in the Society's 1966 General Chapter that he attended and so joyfully embraced as a point of reference. The fruits of that vision are still with us today, namely the need to work collaboratively in mixed teams of priests, Brothers, Sisters and lay people, the empowerment of laity in Church and society and attentiveness to the long patient process of the inculturation of the Gospel with the local Church. These formed the core of his missionary legacy.
Father Murphy was ever the intrepid builder not just building for building's sake, but building up the living temples of the Holy Spirit, the Peruvian people and their Church. Every place he worked, he encouraged people to give testimony to the love of Jesus Christ. This will be his enduring legacy for the people of Villa El Salvador, his final mission. On those sprawling sand dunes he helped to erect a model of Church to fit the needs of "todas las sangres del Peru profundo" where they continue to evangelize all of us to the profound truths of faith, hope and love.
In his last year, a constant refrain in Father Murphy's reflections had been the deep sense of gratitude for his missionary vocation and for all the joy it brought him. Possessed of a sharp wit and a keen awareness of the urgency for mission, he continued to probe the critical questions and challenges posed by Maryknoll's Mission Vision. His conversations during this time were punctuated by provocative ideas about the new opportunities in mission. In particular, he spoke about the need to build a missionary vision around the theme of reconciliation.
Father Murphy's journey in mission was a joyfilled one in every respect from start to finish. That journey took its final turn over a year ago when he fell ill while in the Holy Land after having participated in the Society's Fall 1996 Spiritual Renewal Program there. The period of his long recuperation at Maryknoll and subsequent return to his beloved Peruvian people in July, 1997 provided the setting for him to recapture the wonder and sense of his forty-seven years in Peru. The Holy Land, where Jesus walked, was a fitting place for him to retrace his steps of walking with the people of Peru.
In a letter he wrote to the Superior General on August 8, 1997 he reflected on Maryknoll, mission and the spirit among us. Father Murphy goes on to say "During my sickness and recuperation period, it has been very consoling to be on the receiving end of the kindness and hospitality which have become an integral part of the Maryknoll Spirit.., my appreciation has grown not only to understand a little more, but I am extremely proud of the openness and tolerance in Maryknoll. As a matter of fact it deeply humbles me.. .the Maryknoll Spirit is great in joys and sorrows but it is even greater in the ORDINARY, where we are living on the cutting edge of mission… It's a great privilege and blessing to be a member of the Maryknoll creative mission community."
The wake and funeral Mass were held on February 23, 1998, and after an all-night vigil, burial took place in Villa El Salvador, Peru. A memorial Mass will be held at Maryknoll, New York on Saturday, April 18, 1998.