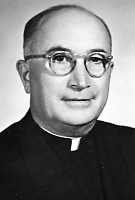 Father Martin J. Burke, MM
Born: October 30, 1899
Ordained: June 27, 1929
Died: July 9, 1969
Martin J. Burke was born on October 30, 1899 in Brownhill, Ireland and came to this country in 1914. He attended St. Joseph's School in Brooklyn, N.Y. and took a two-year business course at St. Francis College. He worked for five years as a bookkeeper before entering the Venard in September of 1920.
He was ordained on June 27, 1929 and that same year was assigned to Kongmoon. After language study he was sent to the mission of Yeungkong. In October, 1940 Father Burke was assigned to work among the Chinese in Cleveland until 1943 when he was named as promotion director for Chicago school work. Again in 1945 he went to work among the Chinese in Cleveland at the request of Archbishop Stritch. In May of 1946 he was named Local Superior of the Chicago house and remained as pastor of the Chinese mission.
In August, 1949 he was appointed Society Superior for Hawaii and reappointed in 1954. On his return on furlough in 1959 he was assigned to the Center Promotion Office and in 1965 made Guestmaster at the Center. In 1968 he took up residence at St. Teresa's.
Father Burke died on July 9, 1969 at Phelps Memorial Hospital, having been transferred there from St. Teresa's.
The funeral Mass and burial were at Maryknoll. Fr. John Stankard was principal celebrant and Fr. Thomas Malone, a classmate preached the homily. Father Burke is survived by four sisters.