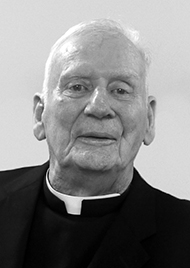 Father Martin P. Keegan, MM
Born: October 15, 1931
Ordained: June 12, 1965
Died: April 19, 2020
Father Martin P. Keegan died on April 19, 2020 at the Assisted Living Center at Maryknoll, New York. He was 88 years old and a Maryknoll priest for 54 years.
Martin Patrick Keegan was born in Quincy, Massachusetts on October 15, 1931, the youngest of four children born to James and Mary Ann Nolan Keegan. He attended Our Lady of Lourdes Parish School in Jamaica Plain and graduated from St. Mary's High School in Brookline, Massachusetts. He studied mathematics at Boston College for three years before entering the United States Air Force, where he served for six years and was honorably discharged as a 1st Lieutenant in 1958. He entered Maryknoll College, Glen Ellyn, Illinois in 1958, graduating with a Bachelor of Arts degree in Philosophy. He was ordained at Maryknoll Seminary, New York on June 12, 1965.
After ordination, Father Keegan left for his assignment to Maryknoll's Mission Region in Peru. He served as pastor in the Huancane Parish for five years, and later in Our Lady of Pilar Parish, Arequipa, and as Chaplain at the Larco Herrera Hospital in Lima, Peru for the mentally ill. In July 1978 he was assigned to the U.S. Region and worked in the Development Department in the Washington, D.C. area. He returned to the Peru Mission Region in September 1981 and began working as pastor of the Cathedral Parish in the Juli Prelature. In July 1985 he was named pastor of the Desaguadero Parish.
In 1990, while on sabbatical, Father Keegan did Pro-Life work in the New York area. From 1991 through 1999, he was assigned to Maryknoll's Mission Region in Mexico and worked in San Sebastian Parish in Merida, Yucatan, Mexico. He was elected Second Assistant to the Regional Superior of the Mexico Region in November 1992, and when that term ended in 1995, he was elected Regional Superior of Mexico for a three-year term.
Father Keegan returned to the U.S. with retired status in April 1999 and took up residence at the Society Center in Maryknoll, New York. He entered the Retirement Community (now Senior Missioner Community) in January 2000. In the spring of 2000 he accepted an invitation to become a member of the Human Rights Commission for Westchester County. He continued his work in the Pro-Life movement from the Maryknoll Society Center until 2014, when he could no longer do so for health reasons. He celebrated his 50th Jubilee as a Maryknoll priest in June 2015.
A Mass of Christian Burial was celebrated in Queen of Apostles Chapel on April 22, 2020 at 11:15 a.m. Father Joseph Slaby was Principal Celebrant and homilist, and Brother John Blazo read the Oath and biography. Burial followed in the Maryknoll Society Cemetery.