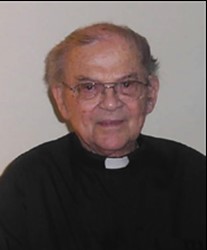 Father Marvin F. Deutsch, MM
Born: June 26, 1928
Ordained: June 8, 1957
Died: February 13, 2023
Father Marvin F. Deutsch died on February 13, 2023 in the Assisted Living Unit at Maryknoll, New York. He was 94 years old and a Maryknoll priest for 65 years.
Marvin Frederick Deutsch was born on June 26, 1928 in Minneapolis, Minnesota, son of Henry and Helen Longen Deutsch. He was one of eight children. He attended St. Helena's grade school and graduated from Roosevelt Public High School in 1946. After two years at St. Thomas College in St. Paul, Minnesota, he entered Maryknoll in the fall of 1949, first going to Brookline, Massachusetts to study special Latin. He completed his college education at Glen Ellyn, Illinois, attended Maryknoll Novitiate at Bedford, Massachusetts, and finally Maryknoll Major Seminary in Ossining, New York. He was ordained a priest on June 8, 1957.
After ordination, Father Deutsch was assigned to Tanganyika (now called Tanzania) in East Africa. He worked among the Basukuma people in Maswa district, a remote area of Shinyanga Diocese, doing primary evangelization, to establish the Church in new areas where it did not exist before.
In 1963, Father Deutsch was assigned to development and vocation work in the United States headquartered at the Minneapolis Maryknoll house. He was director of the Minneapolis promotion house from 1964 to 1969 after which he returned to Tanzania. After studying Kiswahili, the Lingua Franca of Tanzania, Father Deutsch was assigned to pastoral work at Chang'ombe parish in Dar es Salaam, the capital of Tanzania on the coast of the Indian Ocean. After two years, he became one of the youth chaplains for the Dar es Salaam Archdiocese, working with the young Christian Workers as well as teaching religion in the secondary schools. He set up the first Catholic Youth Center in the city and became its first director.
In 1981, Father Deutsch went to Rome on a one year sabbatical, where he took courses in Theology and Scripture at the University of St. Thomas Aquinas. He also studied Ignation Spirituality and Spiritual Direction at the Gregorian University. He found this very beneficial in the years to come after his retirement from Africa, when he did retreat work in the Archdiocese of St. Paul and Minneapolis.
In 1982, after celebrating his 25th anniversary in the priesthood, Father Deutsch returned to Tanzania, leaving Dar es Salaam and moving back to Shinyanga Diocese, where he first started out in 1957. He worked as Chaplain of Shinyanga Secondary School and Junior College, where he taught all the religion classes at a 600 student, all-boys school. After six years, Bishop Castor Sequa asked Father Deutsch to move into Shinyanga town, 20 miles away, to finish the work on the diocesan youth center which had been abandoned for five years because of various problems. There were four buildings there, about 50% finished. The contractor had fled the country because of accusations by the government. The country was at war with Idi Amin of Uganda and had no foreign money reserves to buy building materials. Father Deutsch went to the United States on furlough and purchased two shipping containers full of building materials which eventually came by ship to East Africa. In Minnesota, he secured the help of a master carpenter and an electrical contractor who volunteered to come and help with the final construction. The "Queen of Peace Youth Center" was finished and blessed by Bishop Sequa on the Feast of the Annunciation in 1989.
As director of the Queen of Peace Youth Center, Father Deutsch furnished the students with a good library and place to study, recreational facilities such as basketball and volleyball courts and a weight-lifting room. He had the assistance of the Young Christian students' organization which was a big help in planning retreats at the Youth Center. Father Deutsch felt very fortunate to teach religion in several of the public schools as allowed by the government.  He also taught a catechumenate class on Saturdays, which resulted in many baptisms, and helped set up a very successful sewing course for girls and young women who did not attend secondary school.
Father Deutsch was director of the Queen of Peace Youth Center until 1997. At the age of 69, and in failing health, he asked to return to the United States and became a member of the Retirement Community (now called the Senior Missioner Community). He worked at Entheo Retreat Center in Minnesota for six years. In 2004, Father Deutsch took up residence at Maryknoll in Los Altos, California, but continued to return to Minnesota during the summer months to do retreat work.
In 2004, Father Deutsch began writing books. Using hundreds of letters he wrote to his mother and family for over 35 years, he wrote a history in three books of his missionary work in Tanzania, including the last year in seminary training at Maryknoll, New York. Copies of these books have been placed in the Maryknoll Archives. Father Deutsch also wrote a retreat manual entitled, "Strangers and Sojourners No Longer." Throughout his retirement years, Father Deutsch wrote nine books, collecting his essays and homilies. The last one, "The Marvel of God's Life Within Us," was finished in 2017.
Father Deutsch remained active in his retirement at the Maryknoll residence in Los Altos, in the San Jose Diocese, where he would give spiritual direction to people who called upon him, heard the confessions of the cloistered Poor Clare sisters, and said Mass at Our Lady of Fatima nursing home. In the fall of 2021, Father Deutsch took up residence at the Society Center in Maryknoll, New York. He celebrated his 65th Jubilee as a Maryknoll priest among family and friends in 2022. Upon the occasion, Father Deutsch reflected that he was "very grateful to God and to Maryknoll for calling him to the priesthood to be an instrument of Jesus Christ's forgiveness, love and mercy.  It has been a wonderful life."
Father Deutsch is survived by his brother, Mr. Jack Deutsch, and his sister, Mrs. Rita Burt. He was predeceased by his twin sister, Marlys Johnson, his sisters, Isabelle McDaniel, Dorothy Modrow and Rose Wallis, and his brother, Donald Deutsch.
Wake services were held on February 16, 2023 in the Holy Spirit Chapel and the Queen of Apostles Chapel at the Maryknoll Society Center. Mass of Christian Burial followed at 11:00 a.m. and was concelebrated in the Queen of Apostles Chapel. Father John Lange was the Celebrant and homilist. Father Michael Callanan read the biography and Father Michael Kirwen read the Oath. Burial followed in the Maryknoll Society Cemetery with Father John McAuley presiding at the graveside prayers.