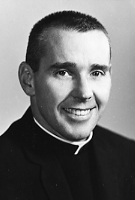 Father Matthew H. Kelleher, MM
Born: June 8, 1934
Ordained: June 10, 1967
Died: June 4, 2002
Father Matthew Kelleher died early in the morning of June 4, 2002 at St. Paul's Hospital in Hong Kong. He was 67 years old and a Maryknoll priest for 34 years (one week short of 35 years).
Matthew was born in New York City on June 8, 1934, the only son of Matthew and Mary Kelleher. He attended St. Luke's Parochial School and graduated from Cardinal Hayes High School in New York City in June of 1952. He graduated from Fordham University with a Bachelor of Science degree in accounting in June of 1956. He studied law for one year at the Fordham University School of Law. At Fordham he was a member of the Air Force R.O.T.C. program and received a commission as a 2nd Lieutenant in the U.S. Air Force. On July 5, 1957, Matthew began a thirty-six months service in the U.S. Air Force. He was honorably discharged with the rank of 1st Lieutenant on March 4, 1960. After discharge he worked as an auditor with Price Waterhouse & Co. until June 6, 1961, when he entered Maryknoll College, Glen Ellyn, Illinois. At Maryknoll Seminary in New York he received his Master of Arts degree in Theology and was ordained a priest on June 10, 1967.
After ordination Father Kelleher was assigned to the Maryknoll Mission Region in Hawaii, where he served as assistant pastor of St. John the Baptist Parish in Honolulu. He taught theology for one year at Chaminade College in Honolulu. Using his G.I. Education Bill in August of 1969 he began study for a Ph.D. degree in Theology at the University of St. Louis, Missouri. He returned to Honolulu in September of 1971 and was appointed assistant pastor of St. Joseph Church in Hilo, Hawaii. On October 6, 1972, he was assigned to the United States Region to be close to his aging mother and to teach religion courses at Cardinal Speilman High School in New York City. He was awarded his Ph.D. in Theology by the University of St. Louis on August 1, 1974. In September of 1977 he took up a teaching position at Maria Regina Diocesan High School in Uniondale, New York. As a sideline he began to study courses in the techniques of teaching English as a second language and received a Master of Arts degree from Hunter College in 1981.
In 1980, Father Kelleher was assigned to the Maryknoll Mission Region in Hong Kong on September 29, 1981. His main area of work had been religious education. For several years he was with the Kwun Tong Pastoral Center where he prepared and conducted religious education programs for secondary schools. For one term he was also an English teacher in Canton, China. He returned to Hong Kong in 1990. At the time of his death Father Kelleher was living at the Kit Sam Primary School in Kowloon, and was Chaplain to the Sisters who run the school. He also prepared and conducted religious education programs for schools, parishes and religious communities. He was also a part-time theology teacher at the Holy Spirit Seminary in Hong Kong. For the past eight years he had volunteered as teacher at the refugee camps for the Vietnamese boat people and had been teaching English two to three
times a week for the past few years in prisons for young offenders.
Wake and funeral services were held in Hong Kong on June 8, 2002 at the Maryknoll Chapel in Stanley, with Bishop John Tong presiding. Burial was in the Happy Valley Cemetery in Hong Kong. A memorial service was held on June 13, 2002, at Maryknoll, New York. Celebrant was Father Jeremiah Burr, Father John Sullivan was homilist, and Father Lawrence Lewis read the biography.