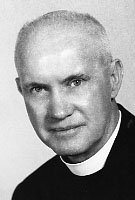 Father Maurice A. Feeney, MM
Born: July 14, 1901
Ordained: June 14, 1930
Died: October 10, 1976
Father Maurice Aloysius P. Feeney died on Sunday morning, October 10, at St. Teresa's Residence,after being ill for some time.
Born July 14, 1901 at Albany, N. Y. , Father Feeney studied at St. Joseph's Academy in Albany, at Albany High School, for two years at St. Bonaventure's College, and for five and a half years at St. Bernard's Seminary in Rochester. Studying for the Diocese of Albany and already a Deacon, he wrote to James Anthony Walsh in November 1929 saying, "for a number of years I have been desirous of leading a harder life, and the Foreign Missions of Maryknoll appeal to me very strongly." He joined Maryknoll in February 1930, was ordained June 14, 1930, and was allowed to take his Perpetual Oath as a Maryknoller on October 3, 1930.
Assigned to Kongmoon, China in 1931, he was in Hong Kong in December 1941 at the time of the Japanese takeover, but managed to slip back to the Yeungkong Mission (Kongmoon) in March 1942. He took his Decennial Leave in the U.S. in 1944-45, and in 1945-46 served as Rector at Brookline. Back to Kongmoon in December 1946, the communists restricted his movements as of December 1950, and he arrived in Hong Kong in July 1952. In 1953, he was assigned to the Taichung Mission in Formosa (Taiwan). From 1955 and for several years he served in Taiwan as First Consultor to the Society Superior. In August 1973, he was assigned to the U. S. Region as a member of the Special Society Unit. The last years of his life were spent at St. Teresa's and at Los Altos, California.
Father Feeney was a quiet, unassuming person, who always had a dedicated and zealous approach to his mission work.
The Vigil Service for Father Feeney was held at 7:30 p.m. Tuesday, October 12, at the Maryknoll Chapel; Mass of the Resurrection was concelebrated there for him at 11:45 a. m. on Wednesday, October 13. Burial followed in the Maryknoll Cemetery.