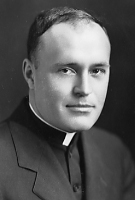 Father Maurice F. Ahern, MM
Born: September 24, 1900
Ordained: June 17, 1928
Died: May 8, 1966
Maurice F. Ahern was born September 24, 1900 in Olney, Ill. Graduating from DePaul University in Chicago in 1923, he entered Maryknoll the following year. He was ordained on June 17, 1928 and assigned to Kaying, South China.
His first station was in Kaying City where he worked among the youth attending the local Middle Schools. An illness in 1934 made it necessary to transfer Father to Honolulu and the following year to Los Angeles. From 1936 to 1938 he was assistant at the San Juan Bautista Mission. In June of 1938 he went to the Venard as Procurator and remained in this position until 1944 when he was transferred to the Center to fill the same position, as Assistant. In 1947 Fr. Ahern was sent to Lakewood to prepare it for occupancy as a Junior College.
In 1948 he was re-assigned to the Orient as assistant to the Procurator in Stanley, Hong Kong. There he remained for the next twelve years. Many of our South China missioners will remember his kindness, especially his success in providing an opportunity to view American films at our house. He was still very interested in young people, helping a number of the refugees to find employment and secure education. He was instrumental in aiding some to migrate to Borneo and Indonesia where they were able to find jobs and provide more adequately for their families.
In June 1960, he was transferred to Manila and two years later returned to the States for furlough. As he was getting ready for his return to the Far East he was taken ill. Although he recovered somewhat, he never regained his full health. He resided in LaGrange, Illinois and at Glen Ellyn, but the mid-western climate was too severe. At his request he was sent to Mountain View. His health deteriorated further and he was sent to a nursing home in San Jose, where he died.
The funeral and burial took place at Mountain View on May 11, 1966. A Mass was also offered in the chapel at Glen Ellyn.