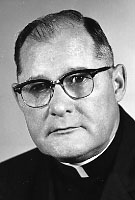 Father Maurice J. Duffy, MM
Born: December 7, 1911
Ordained: June 14, 1938
Died: March 5, 1990
Father Maurice Joseph Duffy died on March 5, 1990, at Phelps Memorial Hospital. He was 78 years of age and a priest for nearly 52 years.
Maurice was born in Philadelphia on December 7, 1911, son of Peter Duffy and Marie Mahoney. He wrote in an account that from early grade school he wanted to be a priest. In first year high school he heard Fr. James A. Walsh, give a talk and he applied for admission. He entered the Venard for 2nd year high in September, 1927. An intelligent student, Maurice had no difficulty passing through college, novitiate and seminary years until he was ordained a priest on 6/14/38.
Father Duffy's entire priestly life was filled with much suffering and chronic illness. After Ordination in 1938 he was assigned to Kaying, South China. After studying the Hakka dialect he was appointed assistant of Chongpu Mission. In 1941 he was granted sick leave and assigned to Sacred Heart Parish in Honolulu. Again he found the pastoral work difficult in the wartime conditions of Hawaii and the mixed racial groups of people. He served there as Assistant Pastor until he was recalled to New York for medical treatment.
His next assignment was to a parish in the Bronx until April, 1946 when he was transferred to Brookline. Since he was a good piano player he took courses in Gregorian Chant and Liturgy in 1948 at St. John's University, Collegeville, MN and again in 1949 at St. Anselm's, Manchester, New Hampshire. This prepared him to be an Instructor in Chant for the students at Maryknoll Junior College, Lakewood. He had a good rapport with the students, imbuing them with his own spirit of dedication to the priesthood and loyalty to Maryknoll. In his later years he enjoyed talking occasionally with the seminarians at the Center and they, in turn, appreciated his comments on earlier days of the Society.
Father Duffy transferred to the Center Social Communications Office and served there for five years in light work while continuing to receive medical treatment. By April, 1957 his health became stable enough for him to be assigned to Guatemala. He studied Spanish and worked in the Malacatancito Parish in Huehuetenango. He was recalled to the U.S. in 1961 due to illness. For the next six years he served for short periods in various parishes in Brooklyn, Sarasota, St. Louis and the Center. In July, 1967 he took up residence at the Venard until St. Teresa's Residence was opened in September of that year. In October, 1971 he went to Los Altos where he helped out temporarily in various neighboring parishes. His last assignment was in 1977 to the Special Society Unit. In the first years he played the organ at Chapel functions but later gave it up. He remained at St. Teresa's until his death.
Father Duffy never built any churches or had a long list of converts to speak about, but he did what he could and remained a faithful priest and Maryknoller to the end.
Wake services were conducted at St. Teresa's and the Center Chapels on March 7th led by Fr. William Pheur. Mass of Christian Burial was offered the next day with Fr. Edward Manning as principal celebrant and Fr. John Mihelko, Homilist and Brother Gilbert Figundio reading the biography. Burial service was in the Center Cemetery led by Fr. William Boteler.