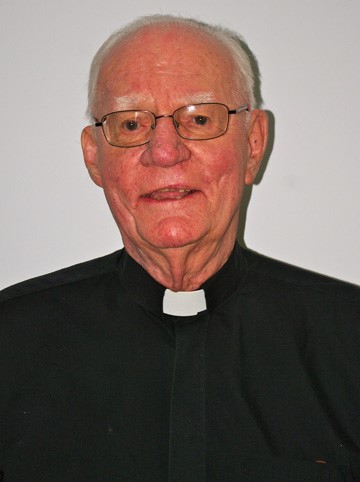 Father Maurice J. Zerr, MM
Born: April 7, 1924
Ordained: June 9, 1951
Died: May 12, 2022
Father Maurice J. Zerr, M.M. died on May 12, 2022 in the Assisted Living Unit at Maryknoll, New York.  He was 98 years old and a Maryknoll priest for 71 years.
Maurice Joseph Zerr was born on April 7, 1924 in O'Fallon, Missouri to William and Olivia Griesenauer Zerr.  He was the youngest of five children. At the age of five Maurice's family moved to Kirkwood, Missouri where he attended St. Peter's Grade School.  He attended St. Louis University High School for one year, and Eugene Coyle High School for his second year.  In September 1940 he joined Maryknoll and finished high school at the Diocesan Preparatory Seminary in St. Louis.  His first two years of college were spent at Maryknoll Junior Seminary (Venard) at Clarks Summit, Pennsylvania.  His last two years of college, his Philosophy years, took place at Maryknoll Seminary in New York.  He attended the Maryknoll Novitiate in Bedford, Massachusetts in 1946-1947 and then returned to Maryknoll, New York for four years of Theology.  Father Zerr was ordained at Maryknoll Seminary, New York on June 9, 1951.
After ordination, Father Zerr was assigned to advanced studies at Manhattan College in New York.  He received a Bachelor of Arts degree in Education and a Bachelor of Science degree in Mathematics.  He then taught for two years at Maryknoll Junior Seminary, Clarks Summit, Pennsylvania.
In April 1955 Father Zerr was assigned to Maryknoll's mission in Shinyanga, Tanzania, East Africa.  He spent 22 years working with the Wasukuma people in the Western part of the country.  Even before Vatican II it was obvious to Father Zerr that an emphasis should be placed on lay leadership.  He spent a great deal of time working with the catechists – the backbone of any parish.  Equally important was the formation of parish councils and out-station councils.  Each parish covered many miles and would have from ten to twenty out-stations.  The Eucharist would be celebrated in each one during the month.  There were relatively few Catholics and only two local priests.  Because the Wasukuma are an agricultural people, the catechumenate was conducted at the parish for several weeks at times that fitted the schedule for planting and harvesting.  Father Zerr had great success with converts, and he credits this to the zeal of the catechists.  During his 22 years in Shinyanga, Father Zerr served in several parishes in the diocese.  He was also appointed consultor to the Africa Regional Superior on two separate occasions.
In January 1977 Father Zerr was assigned to Kenya.  He spent seven years as Catholic Chaplain in the Kenyatta National Hospital, a 1254-bed complex.  He went from ward to ward, bed to bed, greeting patients, giving sacramental assistance to Catholics, and offering encouragement and a smile to all others.
In 1984-85 Father Zerr did some specialized work for Cardinal Maurice Otunga in the Archdiocese of Nairobi.  He spoke in secondary schools and institutes of higher learning about the Catholic Charismatic Renewal.  The Pentecostal and Evangelical religions were causing problems among the students, teaching that they didn't need to study because the Holy Spirit would give them all knowledge and success in their exams.  The result was failure for many.  They were also told that they should not use medicine or go to the doctor; that they would be healed by the prayers of their group.  Some died.  Father Zerr spoke about the correct and incorrect use of the charisms of the Holy Spirit.
Father Zerr spent the following three years as Assistant Chaplain at the University of Nairobi.  He lived at the main campus and helped with the parish work.  He also was responsible for the Kabete Campus, the Agricultural and Veterinary branch of the University.  He celebrated the Eucharist at the Kabete Campus and was available three days a week for counseling.
Father Zerr served his entire fifty-one-year missionary career in East Africa.  In April 1990 he was enrolled in the Special Society Unit with continued residence in Kenya and in January 1998 he became a member of the Senior Missioner Community, but continued to reside at the Gleason House in Nairobi, Kenya.  He devoted a fair amount of his time to retreat work in schools and with Religious Groups.  Father Zerr assisted the Catholic international community by celebrating the Eucharist one Sunday each month and was available for other needs.
In March 2006 he returned to Maryknoll, New York where he continued to reside as part of the Senior Missioner Community.  For many years, he helped out in local parishes on weekends when assistance was needed.  Father Zerr remained very grateful to God for family, friends, and the African people who touched his life.
A Wake service was held on May 18, 2022 in the Holy Spirit Chapel and the Queen of Apostles Chapel at the Maryknoll Society Center.  Mass of Christian Burial followed at 11:00 a.m. and was concelebrated in Queen of Apostles Chapel.  Father Edward Davis was the Celebrant and Father Edward Dougherty was homilist. Father Michael Callanan read the biography and Father Michael Kirwen read the Oath. Burial followed in the Maryknoll Society Cemetery.