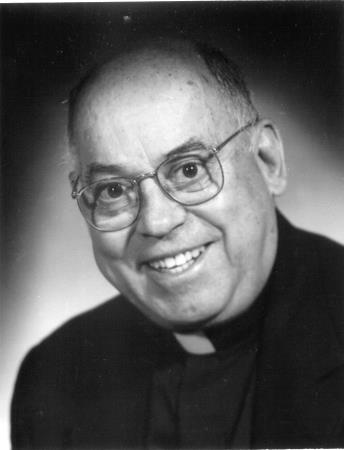 Father Michael A. Simone, MM
Born: May 27, 1926
Ordained: June 9, 1956
Died: November 25, 2016
Father Michael A. Simone died on November 25, 2016 at Mission St. Teresa's. He was 90 years old and a Maryknoll priest for 60 years.
Michael Angelo Simone was born, reared and educated in Mocanaqua, a small coal mining town in northeastern Pennsylvania. Born on May 27, 1926, he was the sixth of nine children of Italian immigrant parents, Michael Simone and Anna Racioppa Simone. He had five brothers: Louis, Matthew, Ralph, Frank,and Joseph, and three sisters: Angela, Mary and Elizabeth.
During World War II, he joined the Army Aviation Cadet Program while a senior at Shickshinny High School. After graduation, he enlisted in the Army Air Corps, and while still in the service, he applied for admission to Maryknoll. Shortly after being honorably discharged in June 1946, he began his studies at the Venard, Clarks Summit, Pennsylvania. He received his Bachelor of Arts degree in Philosophy from Maryknoll College, Glen Ellyn, Illinois, and his Master of Religious Education from Maryknoll School of Theology, Maryknoll, New York. He also holds a Masters Degree in Art History from Notre Dame University, South Bend, Indiana. While in the novitiate and seminary, he worked as both a master carpenter and stone mason.
Father Simone was ordained on June 9, 1956 at Maryknoll, New York, and was assigned to the Bolivia Region. His ministries included parish work, development, and high school and college teaching within the Maryknoll Society. Father Simone taught Religion at the Venard and Art History at Glen Ellyn. While at Glen Ellyn, he fulfilled a childhood dream by becoming an FAA licensed private pilot. He taught Cultural and Creative Art at Jesuit Popular University in Santiago, Chile. In Hawaii, he taught religion and served as Campus Minister at Maryknoll High School, Honolulu. He described his mission as "living out of a suitcase" since he moved frequently from mission locations.
In 1962, Father Simone returned to the United States and entered the Trappist Monastery in Ogden, Utah. However, a near fatal blood disorder forced him to abandon the Monastery.
In 1972 Father Simone began in-depth studies of Basic Christian Communities with Father José Marins, a noted author and educator in Latin America, which he undertook again in 1982. The following year he returned to the United States, and worked in a poor Hispanic parish in Austin, Texas. He actively promoted the preservation of the Mexican culture, including having Mariachi bands participate in Mass followed by social breakfasts of traditional Mexican foods.
Father Simone, the recipient of numerous honors and awards, did not take his first art course until he was 40 years old. "I always had a knack for art," he said, "so I decided to try it." Mostly self-trained, he studied acrylic painting in Austin, Texas, with a noted artist, Gustave Likan. For many years, Father Simone maintained a studio in Nanticoke, Pennsylvania where he painted for therapy, pleasure and profit. He had several successful shows with the proceeds of modest sales going to the missions. His works were represented in Chile, New York, California, Texas, Pennsylvania and Canada. Father Simone was also an affiliate member of the AAHA (American Association of Handwriting Analysts).
In 1981, Father Simone was assigned to Chile, where he served in San Bernardo Parish, promoting the rights of poor workers, building small Christian communities in the barrios and using art to put people in touch with their own identities and dignity. In 1989, he withdrew from Chile because of a serious accident which required delicate surgery on his spine.
Father Simone joined the Special Society Unit in September 1991 and the Senior Missioner Community in February 2001. He returned to Maryknoll, New York, from Nanticoke, Pennsylvania in 2006 and moved to Mission St. Teresa's in November 2013. He continued with his painting until 2015, and in 2009 had a "showing" in the Spellman Room at the Maryknoll Center.
A Rosary and wake service was held at 4:00 p.m. on November 30, 2016 at Mission St. Teresa's. The body was received at the Maryknoll Society Center at 9:30 a.m. on December 1, 2016. Father Simone's family received condolences and prayers until 10:45 a.m. in the Lady Chapel. The biography was read by Father John F. Gorski. Mass of Christian Burial followed at 11:00 a.m. and was concelebrated in Queen of Apostles Chapel. Father Emile E. Dumas was Principal Celebrant and Father Ernest C. Lukaschek was the homilist. Burial followed in the Simone family plot in St. Mary's Cemetery in Mocanaqua, Pennsylvania.