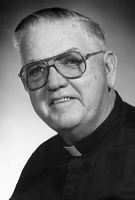 Father Michael G. Collins, MM
Born: July 22, 1928
Ordained: June 13, 1959
Died: September 18, 2002
Father Michael Collins died at the China Medical College Hospital in Taichung, Taiwan in the early morning of September 18, 2002. He was 74 years old and a Maryknoll priest for 43 years.
Michael, son of Patrick and Mary Elizabeth (Amy) Collins, was born on July 22, 1928 in Dorchester, Massachusetts. He has one brother, Bob, and four sisters: Mary, Joanne, Nancy and Eileen. Michael attended Grover Cleveland Int. School, Boston English and Dorchester High Schools. After serving in the United States Navy for four years, he decided that a foreign mission vocation would be his choice. He entered Maryknoll at the Venard, Clarks Summit, Pennsylvania on June 25, 1949. He reflected on his call to mission and Priesthood in the following letter written in 1949 as he prepared to enter the Society:  "I was assigned to the Naval Air Transport Service and for the next 27 months I was flying to China's major cities. During my stay in China I was appalled by the existing conditions such as food and shelter. But most important was their lack of knowledge of Jesus Christ. This is where I first heard of Maryknoll and it was through an old copy of the Field Afar that I realized that there are people in the world trying to save the souls of this war torn nation, and at the same time helping them with their material needs. Each day I pray for more faith and that I may have a vocation so that I may go forth into the world preaching the word of God, and saving souls among those who knew him not." He was ordained to the priesthood on June 13, 1959 and assigned to the Maryknoll Mission Region of Taiwan.
During Father Collins' time in Taiwan, he served as Assistant Pastor/Pastor in many parishes, beginning with Nantou and Changhua to Lukang in 1967. In 1968 he was assigned Procurator of the Taichung Society House and was appointed to the Regional Council in July 1973. After nineteen years in Taiwan, on July 1, 1978 he was assigned to the Development Department working in the Philadelphia House and later, in July 1979, he was appointed Director and Local Superior of Maryknoll's regional office in St. Louis. During his time on Promotion he spent many hours with youth informing them of Maryknoll.
Father Collins was among a number of Maryknollers who deeply believed that the Society needed a more formal 'Contemplative Community' of Priests and Brothers. The dream of this community was to pray, fast and make sacrifices for the sanctification of all Maryknollers and for an increase of zeal in their works of evangelization. Although there was support and encouragement from leadership and other Maryknollers, the dream was never formalized.
On January 1, 1984 he was reassigned to the Taiwan Region to an Aborigine parish, among the Bunun tribe. His work for the most part entailed the care of souls and translating the New Testament and portions of the Old Testament into a Romanized version of the unwritten Bunun langnage. Father Collins was very active in the contemplative prayer group in Taiwan. In February 1999, he was formally retired but continued to live among the Bunun people in Central Taiwan. He had recently taken up residence in the Taichung Society House where he assisted local parishes.
A Mass of Christian burial was held on Tuesday, September 24, 2002 in Taichung Diocese, Nantou County, Kuo Kheng, with Bishop Joseph Wang as celebrant and Rev. Eugene Murray M.M. as homilist. A memorial service was held at Maryknoll, New York on Saturday, October 19, 2002.