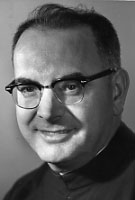 Father Michael Gaiero, MM
Born: September 8, 1914
Ordained: June 22, 1941
Died: November 12, 1995
Father Michael Gaiero died at noon on November 12, 1995 at St. Teresa's residence, Maryknoll, New York. He was 81 years old and a Maryknoll priest for 54 years.
Michael Gaiero was born on September 8, 1914 in Haverhill, Massachusetts, the seventh son of Domenico and Maria Rubino Gaiero. He had six brothers and one sister. Although baptized Romeo Michael, he was known simply as Michael throughout his life. He studied for 9 years at St. James Grammar School where the zeal of one of the Sisters awakened his interest in foreign mission work. He graduated from St. James High School in Haverhill in June 1932. Michael attended Boston College for two years. Throughout his high school and college years, talks by various Maryknoll Missioners and reading The Field Afar magazine crystallized his decision to join Maryknoll. Michael entered Maryknoll Junior Seminary (Venard) in Clarks Summit, Pennsylvania, on September 8,1934. He was ordained a priest at Maryknoll Seminary in Ossining, New York, on June 22, 1941.
At ordination, Father Gaiero was assigned to the Maryknoll Mission in Kaying, South China. He arrived in Hong Kong on December 7, 1941, the day before the Japanese army invaded the city. Along with other Maryknollers, he was captured and interned in the Fort Stanley Internment Camp.
Released from the camp in late 1942, Fr. Gaiero made his way inland to Kaying in January 1943 and served there as an assistant pastor in Chung Sin and later as Administrator at Hoping in the Kaying Vicariate. He cultivated a taste for literature, particularly poetry, and wrote much of a lyrical quality. He was chiefly responsible for the translation of much of the Catholic Liturgy into the Hakka language in South China. After his Home Leave in 1949, there being no opportunity to return to China, Father Gaiero was appointed assistant pastor at Transfiguration Parish in New York City, where he served for several years.
On April 27, 1955, Father Gaiero was assigned to the Maryknoll Mission in Taichung, Taiwan, and appointed pastor of the large Tung Shih Parish where he served for 30 years. He built the beautiful Holy Family Parish Church, a rectory, convent and kindergarten for 162 children. During his time there, the parish was divided into three separate parishes. He served for over ten years as a member of the Taichung Diocesan College of Consulters.
While on Home Leave in 1961, he was invited to conduct the annual retreat for the major seminarians at Maryknoll Seminary in New York, which indicated the confidence his Superiors had in his missionary spirituality and apostolate. During this same Home Leave, Father Gaiero attended the Missioners Workshop, instituted at the time to give missioners on Home Leave from various parts of the Maryknoll world the opportunity to meet and exchange their personal experiences and also to meet and mix with the seminarians at Maryknoll.
On November 1, 1985, while on sick leave in the United States, Father Gaiero was enrolled in the Special Society Unit for retirees of the Maryknoll Society and took up residence at Maryknoll Residence, Los Altos, California. He transferred to St. Teresa's Residence at Maryknoll, New York, shortly after the major earthquake on October 17,
1989 in the San Francisco Bay area which devastated the Maryknoll Residence in Los Altos. Father Gaiero was known for his sensitive personality, with a good disposition and ready sense of humor.
Wake services for Father Gaiero were held on Wednesday, November 15th, at St. Teresa's Residence Chapel at 7:00 p.m. and at Queen of Apostles Chapel at Maryknoll Center, New York, at 7:30 p.m. with Fr. Richard Bell officiating. Mass of Christian Burial was concelebrated on Thursday, November 16th at 11:30 a.m. in Queen of Apostles Chapel. The Principal Celebrant was Father August Kircher, and the homily was given by Father James Nieckarz. Interment followed at Maryknoll Cemetery.