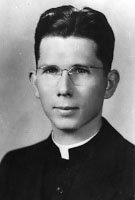 Father Michael H. O'Connell, MM
Born: August 19, 1914
Ordained: June 22, 1941
Died: May 1, 1992
Father Michael Henry O'Connell died at St. Teresa's Residence, Maryknoll, New York at 7:30 a.m. on May 1, 1992. He was 77 years old and a Maryknoll priest for 51 years.
Michael Henry was born in San Francisco, California, on August 19, 1914, son of Patrick M. O'Connell and Mary A. McMahon O'Connell. He had two brothers and five sisters.
Michael attended Immaculate Conception parish school and St. James Grammar School run by the Marlanist Brothers In San Francisco. About a month before graduation, Maryknoll Fathers James Keller and Charles McCarthy spoke to the students and Michael decided he wanted to be a Maryknoll priest. The Sunday after school closed, July 17, 1928, unbeknownst to his parents, he applied to Maryknoll at the age of 14. On learning of his wishes, his parents readily agreed. In September he entered first year high school at Maryknoll Junior Seminary at Los Altos, California. He graduated from St. Joseph's College (the Diocesan Minor Seminary where Maryknoll students took classes) in June of 1934 and in September entered Maryknoll Apostolic College (Venard) In Clarks Summit, Pennsylvania for two years of philosophy studies. In August 1936 he entered the Maryknoll Novitiate at Bedford, Massachusetts. In September 1937 he entered the Major Seminary at Maryknoll, New York where he was ordained a priest on June 22, 1941.
Father O'Connell's first mission assignment was to the Maryknoll Mission in Kweilin, Kwangsi Province, China. He landed in Hong Kong on December 7, 1941, but before getting to his mission In Kweilin he was captured by the Japanese army on Christmas Day at the Maryknoll Center House In Hong Kong. He remained for nine months in the Stanley Internment Camp. After being released, he took up residence in the house of the Paris Foreign Mission Society in Hong Kong. Finally, with the other Maryknollers there, he made his way inland to Kweilin in 1943.
After language studies, Father O'Connell was assigned to the parish of Laipo with Father (now Bishop) Joseph W. Regan. Later that year the Maryknollers were forced to leave the Kwellln mission by the advancing Japanese army. The missioners evacuated the area with the U.S. Army Air Corps personnel to Kunming, Szechuan Province. Father O'Connell then served as a contract chaplain with the Air Corps. The local people were poor, but the American GIs were generous and were able to offer substantial help to the priests and nuns working in the mission. He served there until the war ended on August 15, 1945. After the war Father O'Connell was again assigned to the parish of Laipo with Father Regan. They worked hard together to rebuild the mission in Laipo. After his return to Laipo from home leave In 1948, the Chinese Communist army overran the area. Father O'Connell was kept under house arrest from December 1950 to June 1951 when he was released to Hong Kong and from there he returned to the United States. During home leave in 1951, Father O'Connell served as a chaplain at the Veterans Administration Hospital in San Francisco. In April, 1952 he was assigned to the Bolivian Dioceses area of the Maryknoll Mission in Bolivia, South America where he served for 32 years. In 1956 Father O'Connell was appointed Second Consultor for the Bolivian Dioceses area to the South America Society Superior.
His first assignment in Bolivia was as assistant pastor in the Santa Ana Parish in Calacala, Cochabamba. In 1954 he was assigned as Pastor of the parish in Warnes, Santa Cruz. During this time he began working with the workers and their families in 'La Belgica', a sugar refinery town which was within the Warnes parish limits. In 1961, the owner of the refinery built a church and contributed to the cost of a rectory. The Diocese created the parish of San Jose with its center in 'La Belgica' and Father O'Connell was named pastor. He remained there until June, 1984 when he felt compelled to resign as pastor for medical reasons and return to the United States.
On September 15, 1984, Father O'Connell was assigned to the Special Society Unit with residence at his sister's home in San Francisco, California. In 1987 he returned to Bolivia for a brief time at his own request. On January 1, 1991 he moved to Maryknoll Residence, Los Altos, California. In September of 1991 Fr. O'Connell returned again to Bolivia and took up residence with the Maryknollers in the parish at Okinawa II, Santa Cruz. In early March of 1992 he fell ill and moved to St. Teresa's Residence at Maryknoll, New York.
Wake services were held on Monday, May 4, 1992 at 7:00 p.m. in the Chapel of St. Teresa's Residence and at 7:30 p.m. in Queen of Apostles Chapel at Maryknoll Center, New York. Mass of Christian burial was concelebrated on Tuesday May 5th at 11:30 a.m. in Queen of Apostles Chapel. Fr. Leo Shea, Vicar General, was the Principal Celebrant and Fr. Robert Reiley preached the homily. Interment followed at Maryknoll Cemetery.