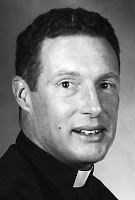 Father Michael J. Duffy, MM
Born: April 13, 1933
Ordained: June 13, 1964
Died: November 16, 1999
Father Michael J. Duffy died at Maryknoll, New York in the evening of November 16, 1999. He was 66 years old and a Maryknoll priest for 35 years.
Michael was born in Montclair, New Jersey, on April 13, 1933, one of seven children born to Edward and Janet Geddes Duffy. He attended Essex Fells Public School in New Jersey, and graduated from Canturbury school in New Milford, Connecticut, in June 1951. He graduated from Princeton University with a Bachelor of Arts degree in history on June 14, 1955. He enlisted in the U.S. Navy after graduation, attained the rank of Lieutenant and was discharged in June 1957. After a year of intensive Latin studies at Loyola University, Chicago, Illinois, he entered Maryknoll College at Glen Ellyn, Illinois on September 14, 1958 and was ordained a priest at Maryknoll, New York on June 13, 1964.
After ordination Father Duffy was assigned to Maryknoll's mission in Tanzania, East Africa. He studied Kisukuma language for three months, after which he began work in the Mwanangi and Salawe missions until a home furlough in 1969. Between 1970 and 1974, he engaged in extensive work organizing the Shinyanga Agriculture Development Programs for the Diocese of Shinyanga, Tanzania.
Father Duffy was elected as one of the Chapter Delegates for the Tanzania Region and attended the 1972 General Chapter. In August 1975 he was assigned to the U.S. Region to serve in the Education Department. During this time he took advanced studies in philosophy and religious thought and secured a PH.D degree in the History of World Religions from Fordham University, New York City. Father Duffy was assigned to the Kenya Region in August 1980 and taught theology courses at the Apostles of Jesus Seminary in Nairobi for three years.
He returned to the United States in December 1983. While residing at the Maryknoll Center Father Duffy assisted at the Maryknoll School of Theology in accompanying students from other countries as they adjusted to the regime of studies in the United States. The President of the School of Theology always found him to be challenging in a positive way to the students, especially to those of a different culture.
Father Duffy was reassigned to the Kenya Region in August 1993 and was the Catholic Chaplain at Kenyatta University in Nairobi for three years. Upon completion of his term as Chaplain, he returned to the United States in early 1997 and took up residence at Maryknoll Center.
Wake services were held on November 21,1999 at 7:00 p.m. at St. Teresa's Residence and at 7:30 p.m. at Queen of Apostles Chapel at Maryknoll Center where Father Carroll Houle officiated and Father Ernest Brunelle read the biography. Mass of Christian Burial was concelebrated at Queen of Apostles Chapel on November 22, 1999 at 11:00 a.m. Father Richard Callahan was Principal Celebrant and Father Thomas McDonnell, homilist. Burial followed at Maryknoll Center Cemetery with Father Michael Snyder conducting the graveside service.