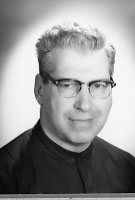 Father Michael J. McCarthy, MM
Born: September 9, 1917
Ordained: June 15, 1947
Died: March 9, 1991
Father Michael Joseph Mccarthy died on March 9, 1991 at St. Teresa's. He was 73 years old and a priest for 43 years.
Michael Joseph was born in Boston, on September 9, 1917, son of Michael McCarthy and Mary Agnes White. He had two brothers and five sisters. He was graduated from Holy Cross College with a Bachelor of Science degree in Education; entered the Venard immediately in 1941. As a student he was quiet, studious, interested in everything around him and active in sports. He was ordained on June 15, 1947 at Maryknoll, New York.
After ordination Father McCarthy went to his mission assignment in Kweilin, S. China, where he studied Mandarin and served generously as assistant pastor in 2 parishes. His pastor at Yungfu said he was quiet but always "ready for the hardest kind of trip and the roughest kind of fare." When the Communists took over in 1950 he was placed under house arrest until released in 1951. He was then assigned to Lipa, in the Philippines, to the parish of Mabitac, after studying Tagalog in Hong Kong. He served very well there with the help of small fervent groups of parishioners. During that time, however, he suffered from spells of depression which caused concern about him on the part of his superiors. He later said he was always happy in China and Lipa.
In 1954 he returned to the U.S. for vacation and medical attention. He was assigned to the Chinese Mission in Chicago but the demands of parish work proved too much for him and he was transferred to Bedford. Although always quiet he became even more withdrawn to the point of needing treatment. When able, he liked to help out in his home parish of St. Aidan's. He remained close to his loving family during all the years of his illness.
In 1964 he was moved from Bedford to the Novitiate in Hingham. There he lived the same quiet routine with his confreres and going home each weekend. However, his health steadily deteriorated and finally, when St. Teresa's Residence was opened in 1968, he lived quietly until the Lord called him. Except for a few years of active ministry in Kweilin and Lipa, his whole mission apostolate was one of suffering. He remained faithful to his vocation and daily Mass, concelebrating with others and joining them at community affairs.
Wake services were held at St. Teresa's and the main Chapel at the Center. On March 12; Mass was concelebrated the next day with Fr. Norbert Rans as principal celebrant and Fr. Walter Maxcy as Homilist. Burial was at the Center cemetery.