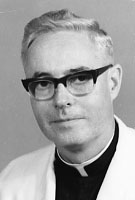 Father Michael J. McKeirnan, MM
Born: September 20, 1914
Ordained: June 22, 1941
Died: September 22, 2009
Father Michael J. McKeirnan died on Tuesday, September 22, 2009, at St. Teresa's Residence, Maryknoll, New York. He was 95 years old and a Maryknoll priest for 68 years.
Michael Joseph McKeirnan was born in Pomeroy, Washington on September 20, 1914. He was the fourth of nine children born to Joseph and Rose Jasper McKeirnan. One of his sisters is Sister Agnes McKeirnan, M.M., who worked in Hong Kong. He attended Holy Rosary Parochial School, and in September 1928 he enrolled at St. Joseph's College, Mountain View, as a seminarian for the Diocese of Spokane, Washington. He joined Maryknoll in 1934 at the Venard, Clarks Summit, Pennsylvania, and was ordained a priest at Maryknoll Seminary, New York, on June 22, 1941.
Father McKeirnan was assigned to Maryknoll's mission in Wuchow, South China. In December of 1941 he was interned by the Japanese in the Fort Stanley Internment Camp for nine months. Upon his release, he made his way inland to Wuchow and was assigned to the Se Wong mission. He remained there until the Japanese army took the town and he moved out with U.S. Air Corps personnel. He served as a chaplain with the Air Force until the war ended and then he returned to Hong Kong where there were a lot of Chinese refugees. Father told stories of how they used the Catholic Relief Services wheat supplies to make noodles for the starving Chinese. In the fall of 1945, he returned to his Se Wong mission and remained there before returning home for a furlough in 1949. He was appointed pastor of St. Theresa's Chinese Mission in Chicago and served there until 1956, when he returned to China, this time to Hong Kong.
Father McKeirnan resumed parish work from 1956 until 1960, when he was appointed Maryknoll's Regional Vicar to supervise Maryknoll's mission works in Hong Kong, and also serve as Director of Maryknoll's Stanley House. At the end of his term in 1966, he was appointed pastor of St. Peter's Parish in Kowloontsai. In 1968, he received his next assignment, namely Director of the Bishop Ford Center in Kowloon, where he lived and worked until January 2005. There were very few local inhabitants who knew as much as Father McKeirnan about the history and culture of the British Crown Colony of Hong Kong. A trip through the Colony with him as guide was an education and a joy. His range of stories was endless and all could see the enjoyment and pleasure he expressed. Father McKeirnan's knowledge and understanding of the Chinese people have been his greatest assets, and his greatest happiness was in instructing adults and seeing the marvelous change that the love of God makes in them. Father McKeirnan returned to the United States in January 2005, taking up residence at Mission St. Teresa's.
Wake services were held at 4:30 p.m. on Sunday, September 27, 2009 at St. Teresa's, with Father John J. Casey officiating, and at 7:30 p.m. in Queen of Apostles Chapel at Maryknoll Center where Father Raymond F. Sullivan officiated and Father I. Edward Szendrey read the biography. Mass of Christian Burial was concelebrated in Queen of Apostles Chapel on Monday, September 28, 2009 at 11:00 a.m. Father Raymond J. Nobiletti was Principal Celebrant and homilist. Burial took place at Holy Rosary Cemetery in Pomeroy, Washington, at his family plot.