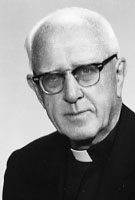 Father Michael J. McKillop, MM
Born: December 11, 1910
Ordained: June 16, 1935
Died: March 3, 2001
Father Michael John McKillop died on Saturday evening, March 3, 2001 at St. Teresa's Residence. He was 90 years of age and a Maryknoll priest for 65 years.
Michael John McKillop was born in Brooklyn, New York, December 11, 1910, son of James and Mary Ann King McKillop. He had two brothers, James and Anthony; and one sister, Mona, mother of two children, Michael and Mary.
Father McKillop went to Mt. Carmel Parochial School, Astoria, New York. He attended high school and college at the Venard before going on to Maryknoll for Theology. Father McKillop wrote in his autobiography on October 15, 1929 about his vocation to Maryknoll. He went on to say, "my school life started at Mt. Carmel School, Long Island, under the direction of the Sisters of St. Joseph. It was there at Mt. Carmel that I received my first thoughts of becoming a priest. I did not think about what order of priests I should like to belong to. I only thought of the priesthood in general. I told my thoughts to my mother and it was she who asked me if I would like to be a missioner to China. The thought appealed to me and I asked her was there any Society in America that trained men for that purpose. Then she told me of Maryknoll." Father McKillop was ordained at Maryknoll on June 16, 1935.
After ordination, Father McKillop was assigned to Japan. After language studies, he became assistant, and then pastor at the Nishijin parish in Kyoto. With the outbreak of World War II, he was interned by the Japanese and sent back to the United States in 1942. He returned to Japan in 1946, as representative of the Licensed Agencies for Relief in Asia, an organization that worked to rebuild countries affected by the War.
In 1948, Father McKillop was appointed Regional Superior for Japan, a position he held until 1955. After his term as Superior he was assigned to be procurator first at the Novitiate in Bedford, Massachusetts and then at the Venard. In 1958, he became pastor of St. Francis Xavier Japanese Mission in Los Angeles, California. He served there until 1968, when he returned to Japan and was named pastor of Kinugasa Catholic Church in Kyoto. In 1974, he became pastor of Immaculate Heart of Mary parish in Matzuzaka. In 1980, he was appointed First Assistant to the Regional Superior.
Father McKillop continued in Matzuzaka until October 1995, when health problems caused his return to the United States. In July 1996, he was assigned to the Special Society Unit with residence at St. Teresa's. At the time of this assignment the Superior General wrote the following – "Father McKillop, on behalf of all the members of the General Council and indeed of all Maryknollers, I write with admiration and great respect in thanksgiving to Almighty God and recognition in your more than 60 years of active ministry as a Maryknoll Priest. And particularly, your great love and affection for evangelization among the Japanese people."
Wake services were held at 7:00 pm on March 7, 2001 at St. Teresa's where Father John Hudert officiated and at 7:30 pm at Queen of Apostles Chapel, Maryknoll, New York where Father John McAuley officiated and Father Regis Ging read the biography. Mass of Christian Burial was concelebrated at Queen of Apostles Chapel on March 8, 2001 at 11:00 am. Father Patrick O'Donoghue was Principal Celebrant and Father James R. Jackson homilist. Graveside service was conducted by Father Jeremiah Burr. Burial followed at the Society Cemetery, Maryknoll, New York.