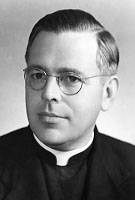 Father Michael J. O'Connor, MM
Born: March 12, 1918
Ordained: June 11, 1944
Died: June 2, 1961
Michael J. O'Connor was born on March 12, 1918 in New York City. He entered the Venard in February of 1932 and was ordained on June 11, 1944. He was first assigned to study English at Notre Dame University and he obtained his M.A. there the following year.
He taught English at the Venard for one year and at the major seminary for a year. From 1947 to 1950 he was on the faculty at Lakewood.
In April, 1950 he was assigned to teach English at the Lingnan University in Canton, China, but after his arrival in Hong Kong it was decided to change his assignment to the Taichung Prefecture on Formosa where he arrived in August, 1951. He was assigned to the Tien Chung Mission where he remained until his furlough in 1957. He returned to Formosa in 1958 and in March of 1961 entered the hospital in Taipei.
Father died on June 2, 1961 in the hospital at Taipei. Father Richard Rhodes was with him to the end and administered the Last Rites.
The funeral took place in Taichung and interment was in the Catholic cemetery there.