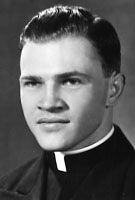 Father Michael J. Ruck, MM
Born: May 17, 1919
Ordained: June 9, 1946
Died: February 6, 2004
Following residence in two nursing homes over a period of seven months, Father Michael J. Ruck died on February 6, 2004, at Villa Siena Nursing Home in California. He was 84 years old and a Maryknoll priest for 57 years.
Michael Joseph Ruck was born in Grospetersdorf, Austria on May 17, 1919, son of Michael and Teresa Piber Ruck. He has a sister and brother, and his family immigrated to the United States, settling in San Francisco, where he attended St. Paul's grammar school. He entered Maryknoll at Mountain View, California in September 1934 and was ordained at Maryknoll, New York on June 9, 1946.
His first assignment following ordination was in the work of Promotion. In that capacity Father Ruck was sent to San Francisco for one year and then to Cincinnati, Ohio, as local Superior and Promotional Director.
Two years later, in June 1949, Father Ruck was assigned to Bolivia and worked in the Pando, where he primarily worked at the Beni river settlement of Forteza, which was very isolated. In 1962 he returned to the United States and Promotion work, first stationed at the Venard, then in Milwaukee. Father Ruck returned to Bolivia in April 1965 and was very active in the work of Radio San Miguel in Riberalta.
In February 1979, he was assigned to Mexico, and the parish of Maria Madre de la Iglesia in Mexico City. However, due to the altitude and smog, Father Ruck returned to the United States in February 1983. He was formally assigned to the U.S. in October 1983, and worked in the San Francisco area. In July 1984 he entered the Special Society Unit, but continued doing parish work in San Francisco until January 1986, when he moved to the Maryknoll Residence in Los Altos, California. Father Ruck entered the Retirement Community in February 2001.
At Father Ruck's 50th Jubilee, it was written: "One characteristic of Mike is his love for the people and the people's love for him. Walking down the street he would stop to speak to  everyone, openness, generous, affability hospitality, virtues of a good missioner."
Wake Services were held at Los Altos on February 9, 2004 at 7:00 p.m. with Father Arthur Dwyer officiating and Bro. Duane Crockett reading the biography. A Mass of Christian Burial was concelebrated on February 10, 2004 at 11:00 a.m. Father Thomas J. Shea, Father Ruck's brother-in-law and a former Maryknoll priest, was Principal Celebrant, Father Joseph O'Neil was homilist, and Bro. Luke Baldwin read the oath. Burial followed in the Maryknoll Society Cemetery in Los Altos, with Brother Thomas Hickey conducting the graveside services. A memorial service was held for Father Ruck on February 13, 2004 at Maryknoll, New York. Father Francis McGourn was the Principal Celebrant, Father William Coy was the homilist, Bro. David McKenna read the biography and Father Ruck's classmate, Father Alphonse Schiavone, read the oath.