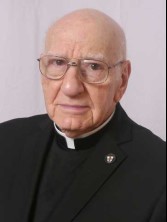 Father Michael O. Zunno, MM
Born: June 11, 1926
Ordained: June 13, 1953
Died: October 25, 2022
Father Michael O. Zunno died on October 25, 2022, at Phelps Memorial Hospital, Sleepy Hollow, New York. He was 96 years old and a Maryknoll priest for 69 years.
Michael O. Zunno was born on June 11, 1926 in Brooklyn, New York, son of Michael and Maddaline Sofia Zunno. He had three brothers and five sisters. As a boy, he was a parishioner of Mt. Carmel, in the Williamsburg Section of Brooklyn, and attended PS #17. He graduated from Cathedral Preparatory High School, Brooklyn, New York, in June 1944. After two years at Cathedral College, Michael entered Maryknoll Seminary, New York, on September 4, 1946. He received his Bachelor of Arts degree in Philosophy in June 1948 and a Master of Religious Education and Bachelor of Theology degrees in 1953. He was ordained a priest at Maryknoll Seminary, New York, on June 13, 1953.
After ordination, in preparation for his mission career in Korea, Father Zunno studied the Korean language and culture for one year at the Far Eastern Language Institute, Yale University, New Haven, Connecticut. Upon his arrival at the Maryknoll Mission in South Korea in 1954, he was appointed Assistant Pastor of the Chechon Parish. His pastoral work included teaching, relief work among the poor, and catechetical work, which extended throughout the Diocese of Cheongju. In 1955, he was appointed Pastor of the Maryknoll Parish in Chung Pyong.
Father Zunno was founding Pastor of the O Song Parish in Cheongju Diocese in 1960. With Bishop Pardy, he introduced the St. Vincent de Paul Society into the Cheongju Diocese. In December 1961, he was appointed First Consultor to the Maryknoll Regional Superior, and continued to serve as Consultor for a second term of office. In 1966, he became Pastor of the Yeong Dong Parish as well as acting Vicar General of the Diocese. On August 1, 1969, Father Zunno was appointed Vicar Capitular to administer the affairs of the Cheongju Diocese in the absence of a Bishop. He became Pastor of Pu Kang Parish in 1970. While on vacation in the spring of 1976, he took the Theological Renewal Program at the North American College in Rome, Italy. He returned to Korea and resumed his mission work in the Cheongju Diocese, where he founded the Parish of Sa Jik Dong.
In 1980, Father Zunno was transferred from the Cheongju Diocese to the southern Diocese of Pusan. His mission work there centered on the poor working families in the area of Pan Song Parish. In August 1984, he became full-time Chaplain at the Maryknoll Hospital in Pusan and continued working there until he retired. In reflecting upon his mission work, Father Zunno stated that he never regretted his decision to be a priest and missioner and that God has given him many graces, especially in his assignment to Korea.
After celebrating his 50th Jubilee in 2003, Father Zunno joined the Retirement Community (now Senior Missioner Community) and returned to the U.S. to live at Maryknoll, New York for health reasons. He was elected First Delegate from the Retirement Community to the 12th General Chapter in 2008. Upon his return to the United States, Father Zunno helped out in Our Lady of Mt. Carmel Parish in Brooklyn, New York. For many years, he worked part-time in the Archives Department. He also assisted the Mission Education & Promotion Department in the Gift Planning unit.
Father Zunno is survived by his nephews, Dr. Anthony Casella and Michael Massone, and by his nieces, Mrs. Lucille Forgione, Mrs. Madeline Bachy, Mrs. Mary Ann Modica, and Mrs. Eileen Massone.
Wake services were held on November 4, 2022 in the Holy Spirit Chapel and the Queen of Apostles Chapel at the Maryknoll Society Center. Mass of Christian Burial followed at 11:00 a.m. and was concelebrated in the Queen of Apostles Chapel. Father David Pfeiffer was the Celebrant and Father Joseph Veneroso was homilist. Father Michael Duggan read the biography and Father Martin Lowery read the Oath. Burial followed in the Maryknoll Society Cemetery, with Father Lance Nadeau presiding at the graveside prayers.