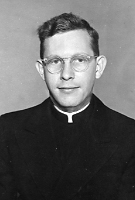 Father Michael P. Hiegel, MM
Born: May 26, 1925
Ordained: June 11, 1955
Died: January 2, 1978
Father Michael P. Hiegel died early this morning (January 2, 1978) at St. Teresa's, after a long illness.
Fr. Hiegel was born at Conway, Arkansas, on May 26, 1925 and went through high school at St. Joseph Parish schools in Conway. He served in the U.S. Army from 1943-46, including Infantry combat duty in wartime Germany. At war's end he studied at Biarritz (France) American University, Arkansas State Teachers College, and Saint Louis University, and joined Maryknoll in September 1947. He studied at Lakewood and Maryknoll and was ordained June 11, 1955. Assigned to the Philippines immediately after ordination, he remained there in a variety of difficult pastoral assignments, "grass-roots work with the poor" as he called it, until failing health forced him to return to the U. S. and become a resident of St. Teresa's in June 1974.
If Fr. Hiegel's apostolate in the Philippines was remarkable for the missionary zeal and dedication he exemplified, no less remarkable was his ministry while he suffered through poor health these last three and a half years. Many Maryknollers, and a host of non-Maryknollers who were his friends, remember gratefully his healing prayer and intercession for them. His prayer these last weeks had been that the Lord might bring him home, and this prayer has now been answered.
There was a Vigil Service for Fr. Hiegel at 7:35 p. m. Wednesday, January 4, in the Maryknoll Seminary Chapel. Mass of the Resurrection was concelebrated at 11:45 a.m. Thursday, January 5, with the homily given by Fr. Hiegel's 1955 classmate Fr. John P. Grady. Fr. Hiegel's burial was in the Maryknoll Cemetery.