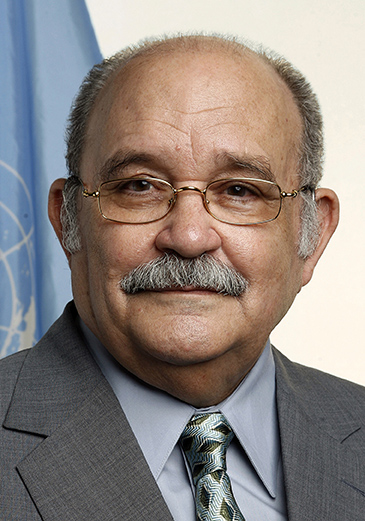 Father Miguel F. d'Escoto, MM
Born: February 5, 1933
Ordained: June 10, 1961
Died: June 8, 2017
Father Miguel F. d'Escoto died on June 8, 2017 in Managua, Nicaragua.  He was 84 years old and a Maryknoll priest for 55 years.
Felix Miguel Jerónimo d'Escoto was born on February 5, 1933 in Hollywood, California, son of Miguel d'Escoto and Rita Brockmann.  Miguel had two sisters and two brothers.  His grammar school education was with the Christian Brothers in Nicaragua, and he graduated from St. Mary's College High School in Berkeley California.  After attending St. Mary's College in Moraga for two years, and Manhattan College in New York for one year, he entered Maryknoll in June 1953 at the Venard, Clarks Summit, Pennsylvania. He was ordained on June 10, 1961 at Maryknoll, New York.
After ordination, Father d'Escoto was assigned to the United States for special studies, during which time he earned an MA in Journalism from Columbia University.  He worked for one year in the Social Communications Department at Maryknoll and in April 1963 was assigned to Chile. While in Chile, Father worked with DESAL, Center for Social and Economic Development of Latin America, and with the Slum Dwellers Federation, CENAPO, and founded and directed the National Institute for Community Action and Research (INAP), a service organization concentrating on legal aid, community organization and leadership training.  Father d'Escoto also worked in television, and was responsible for the creation of two of the most popular TV programs in Chile in the 1960's.  In 1968 UNESCO presented the "Japan Award" to This Woman is You (Esta Mujer Eres Tú), one of the programs created by Father d'Escoto, as the best educational TV program.  It was the first time that such an award went to a third-world country.
In October 1969 Father d'Escoto was assigned as Director of Maryknoll's Social Communications Department.  In that position he founded ORBIS Books, which became a most important instrument for the spread of Liberation Theology and for the transmission of other significant thought from developing nations.  Father d'Escoto was a Chapter Delegate from the United States Region at the 1972 General Chapter.  He was reappointed Director of Social Communications until March 1979.
In July of 1979 Father d'Escoto was released from Society assignment and accepted the post of Foreign Minister in the new government of revolutionary Nicaragua, a post he held until April of 1990.
During the 1990's Father d'Escoto continued working in Managua with FUNDECI, an NGO he founded in the aftermath of the 1972 Managua earthquake to help homeless victims.  In January 2002 Father d'Escoto was assigned to the Retirement Community, with residency in Nicaragua.  Nonetheless, he has remained active in the promotion of the rights of Mother Earth and the development of a liturgy of engaged ecological spirituality.  Father d'Escoto was awarded the Nora Astorga Award in June 2006 for being an example of Peace Chancellor to Nicaragua and its history.
Father d'Escoto was elected President of the 63rd General Assembly of the United Nations on June 4, 2008 for a term of one year.  In April 2010 Father d'Escoto presented his proposal, Reinventing the UN, to the People's World Conference on Climate Change the Rights of Mother Earth in Cochabamba, Bolivia.
Father Miguel F. d'Escoto, M.M. was awarded the Gold Medal of Honor by the Nicaragua National Assembly on August 14, 2013.  The award was given in recognition of his lifetime contributions as a diplomat/foreign minister, humanist, pacifist and staunch defender of Mother Earth; and for his struggle for world peace.
Funeral services were held in Managua, Nicaragua on Friday June 9, 2017.  Burial of Father Miguel F. d'Escoto took place at the General Cemetery in Managua. A Memorial Mass was held at Maryknoll, New York on June 20, 2017 at 11:00 a.m.  Father Richard P. Albertine was Principal Celebrant and homilist.