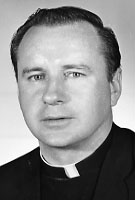 Father Morgan J. Vittengl, MM
Born: December 2, 1928
Ordained: June 11, 1955
Died: June 18, 1991
Father Morgan John Vittengl died peacefully on June 18 at St. Teresa's Residence. His brother, Fr. Donald, and sister Jane and her husband, were praying at his bedside. He was 63 years old and a Maryknoll priest for 36 years.
Morgan was born in Wilmington, Delaware on December 2, 1928, eldest son of Morgan John and Mary Regina Derby. He was graduated from St. Mary's 8.5. in Westfield, Ma. valedictorian of his class. He entered the Venard in September, 1946, obtaining a Master of Divinity and Master of Religious Education degree from Maryknoll. He was ordained on June 11, 1955. All through his studies Morgan was a superior student, talented in journalism, linguistics, history, debating and athletics.
After ordination he was assigned to the Cultivation Dept. and requested to earn a Master of Science degree in journalism from Columbia School of Journalism in NYC. In 1957 he was assigned to Hong Kong to serve as editor of the China Missionary Bulletin, later called ASIA Magazine. He traveled extensively throughout the oriental countries and published a book called 'All Round Hong Kong.' When the Communists took over that magazine was terminated and Father Morgan served for two or three years in refugee work in Hong Kong.
In 1963 he was appointed to the Faculty at Glen Ellyn where he taught English Literature for a year. In 1964 he went to the Venard as Vice Rector. During that time he obtained a Master of Arts Degree in American History from the University of Scranton. Two years later he was appointed Rector of Mountain View and taught at nearby St. Joseph's College. In July of 1969 he returned to Hong Kong to resume mission work but ill health forced him to return to the U.S. at the end of the year. He was assigned to the U.S. Region in 1970 and to the Social Communications Dept. There he served as correspondent and photo-journalist for the African Region, traveling extensively throughout East Africa. He published many aricles and book reviews in Maryknoll Magazine, the Sign, and the Catholic Digest, as well as some secular magazines. He also became the co-Owner and director of KEL-VIT AUDI-VISUAL Productions, producing the Spanish-English educational materials for use in our mission work, For 4 years he was also Editor of World Parish.
On June 8, 1980 he celebrated the 55th Wedding Anniversary of his parents and his own silver jubilee as a priest in the family's home parish. Fr. Morgan's mission apostolate was spreading the Word of God through innumerable articies. He belongs in the ranks of many Maryknollers who have made Maryknoll an honored name in the international media. In February of 1991 he was assigned to St. Teresa's. All admired his heroic efforts to participate faithfully in community exercises and to suffer patiently his steadily decreasing strength. He took part in all community affairs until the last week or so when he was unable to arise.
Wake services were conducted at St. Teresa's and the Center on Tuesday, with Mass the following day celebrated by his brother, Fr. Donald, Main Celebrant, and Fr. Ronald Saucci, as Homilist.