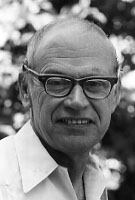 Father Norbert M. Verhagen, MM
Born: February 24, 1914
Ordained: May 31, 1939
Died: May 15, 2012
Father Norbert M. Verhagen died on May 15, 2012 at St. Teresa's Residence, Maryknoll, New York. He was 98 years old and a Maryknoll priest for 72 years.
Norbert Michael Verhagen was born on February 24, 1914 in Freedom, Wisconsin, son of Henry and Willielmina Weyers Verhagen. He attended Sunny Corners School for five years and graduated from St. Nicholas Grade School. He entered Salvatorian Seminary in St. Nazianz, Wisconsin and pursued Philosophy and Theology courses at St. John's University, Collegeville, Minnesota. He was ordained on May 31, 1939 by Bishop Paul P. Rhode in the Cathedral of St. Francis Xavier, Green Bay, Wisconsin, for the Diocese of Green Bay. Father Verhagen served two years as Associate Pastor at St. Boniface Parish in West DePere and one year at Saints Peter and Paul Parish, Green Bay. With the permission of his Bishop, he entered Maryknoll on June 24, 1942 and spent his Novitiate time at Maryknoll Junior Seminary (Venard), Clarks Summit, Pennsylvania, where he also taught English, Physical Education and Religion. Father Verhagen took his Perpetual Oath to Maryknoll on June 26, 1946.
In July 1943 Father was assigned to Mexico where he spent his entire missionary apostolate of more than 50 years. He was assigned with the first group of Maryknollers to Maryknoll's new rugged mission in Tepic, Mexico, where he did pioneer mission service for five years among the Cora and Huichole Indians. In 1949 he was transferred to Yucatan, Mexico and served as pastor of Carrillo Puerto and Bacalar Parishes. While on furlough from 1951 to 1952, he took special studies in Agriculture at the Southwest Louisiana Institute of Agriculture. On his return to Yucatan he was appointed re-founding pastor of the isolated Mayan mission of Tihousuco, Quintana Roo, where he had to learn the Indian dialect of the Maya. It was a jungle town, and besides his pastoral work, Father Verhagen taught the Indians how to plant and grow cabbage, beets and carrots and improve their flocks of chickens. Next he was assigned to San Francisco Xavier Parish at Tzucacab, where he did much to restore and re-roof the beautiful old Church of St. Joachim. His last parish in Yucatan was the extensive mission at Yaaxacaba. From there he went to Mexico City where he founded new parish centers in the suburban areas of Mexico City and Cuernavaca.
Although formally retired in March 1984, Father Verhagen continued an active apostolate in Cuernavaca, where he resided for the next ten years. In January 15, 1995 Father Verhagen retired to the Maryknoll Residence in Los Altos, California. During his stay at Los Altos, he made short annual visits of several weeks to his former mission areas in central Mexico and more prolonged visits to his native haunts in Wisconsin, near Green Bay, up and down the Fox River Valley. He also dabbled with acrylic painting. In February 2001 Father was assigned to the Retirement Community, and in October 2005 he moved to St. Teresa's residence.
Wake services were held at 4:30 p.m. on May 17, 2012 at St. Teresa's, and at 7:30 p.m. in Queen of Apostles Chapel at Maryknoll Center where Father Carl Meulemans officiated and Father William Donnelly read the biography. Mass of Christian Burial was concelebrated in Queen of Apostles Chapel on May 18, 2012 at 11:00 a.m. Father Robert Lloyd was Principal Celebrant and Father James Hilgeman homilist. A memorial Mass and burial of his remains followed at a later date in his hometown parish in Freedom, Wisconsin.