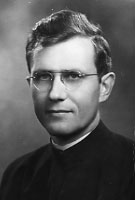 Father Norman Batt, MM
Born: January 31, 1905
Ordained: January 26, 1930
Died: November 5, 1975
Father Norman Peter Batt died this morning, November 5, 1975, at 7 a. m. in a Buffalo, New York hospital. Since 1970, he had been living in retirement with his blind brother, Louis, at Snyder, New York, but he had assisted in parish duties at Christ the King Parish in Snyder.
Father Batt, born in Buffalo January 31, 1905, studied at St. Louis Parochial School and graduated from Canisius High School in 1922. He received his A.B. from Canisius College in 1926. He joined Maryknoll, September 1926, studied at Maryknoll Seminary and received the S.T.B. degree from Catholic University in 1929, and was ordained January 26, 1930. He spent his first years as a priest in Development work for Maryknoll at Duluth, Cincinnati, San Francisco and other locations. From 1935-40, he taught at the Venard, studying botany, organic chemistry and education in summer sessions at Canisius College. Assigned to Fushun, Manchuria, in 1940, he was especially interested there in plant breeding and genetic experimentation work. Interned by the Japanese in Manchuria, he was repatriated on the Gripsholm in December 1943. From 1944 to 1951, he taught again at the Venard, served as Venard Rector in 1947-48, taught at Maryknoll Junior College in Lakewood, and took further studies at Fordham in 1950-51.
The period from 1951-69 in Father Batt's life was devoted to working out the architectural plans, and to serving as supervisor and consultor on a variety of construction projects. These included completing the Major Seminary building at Maryknoll, New York; the St. Teresa's building at Maryknoll; the Chesterfield Seminary; the Glen Ellyn Seminary; Hingham; assistance on the designs of the Lima and Nairobi Society Houses; and as a final project in the late 1960's, the design and construction of the Honolulu Society House. Father Batt's work for the Society through the years was described as "dedicated and selfless."
Father Batt specifically requested burial at Maryknoll, N.Y. A vigil service was held for Father at 7:30 p. m. on Friday, November 7, at the Maryknoll Chapel. Mass of the Resurrection was concelebrated at 11:00 a. m. on Saturday, November 8, at the Maryknoll Chapel with Bishop John W. Comber, M.M. as principal celebrant and Father Thomas S. Walsh as homilist.