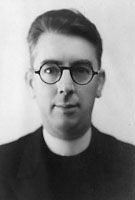 Father Otto A. Rauschenbach, MM
Born: June 23, 1898
Ordained: June 15, 1924
Died: May 14, 1945
Otto Rauschenbach was born in St. Louis, Missouri on June 23, 1898 the seventh child in a family of nine. He entered Maryknoll in 1918 following five years in the St. Louis Preparatory Seminary. He was ordained on June 15, 1924 and assigned to South China where he spent the next twenty-one years in Maryknoll's Kongmoon Vicariate.
Father Otto was a tireless worker who put many new missions on a firm foundation. In most cases these missions were built "from scratch". His most important work, which did not win many converts at the time, was the breaking down of prejudice and fostering good will among the people. Father used dispensaries and radio broadcasts to interest people in Christ's message. He was also responsible for many buildings, including the attractive compound at Nanfau and a hospital at Toishan. Thus, he sowed the seeds of future mission strength and the missioners who followed him reaped the rewards of his careful planning.
During the last years of the Second World War, the Kongmoon Territory was partly occupied and completely encircled by the Japanese. Father Rauschenbach was due to return to the States for a furlough but he chose to remain among his people to assist them in their time of need. He had been living in the hills with some other missioners but in order to administer the Sacraments to his Christians on the Feast of Pentecost, Father returned to an area infested with bandits. Early on the morning of May 14, 1945, just after starting on his journey, Father Otto was shot by one of these bandits. The Chinese lost a great friend and Maryknoll a dedicated worker.
A Solemn Mass of Requiem was celebrated at Maryknoll by Father Joseph Ryan on June 9. He was assisted by Father Thomas Malone as Deacon and Father Patrick Cleary as Subdeacon. Father Thomas O'Melia preached the eulogy.